In this new post-pandemic world, companies have no choice but to change! Especially when 86% of employees consider diversity, equity and inclusion (DE&I) to be of paramount importance. The commitment is real; almost two-thirds of employees (62%) would turn down a job offer if it came from an organisation with a non-diversity culture. 
This is according to a recent Future of Work report, published by recruitment company and job board Monster. Conducted in conjunction with independent research firm Dynata, Monster surveyed more than 3,000 recruitment, talent acquisition and HR professionals on the importance of retaining talent in a time of Great Resignation.
The survey reveals that many organisations are ensuring they communicate their inclusive HR policies so that candidates can understand the culture of a potential new workplace before they even consider applying. And even if there is still a lot of work to be done, 45% of companies believe that building a diverse workforce is a priority to retain existing talent and attract new employees.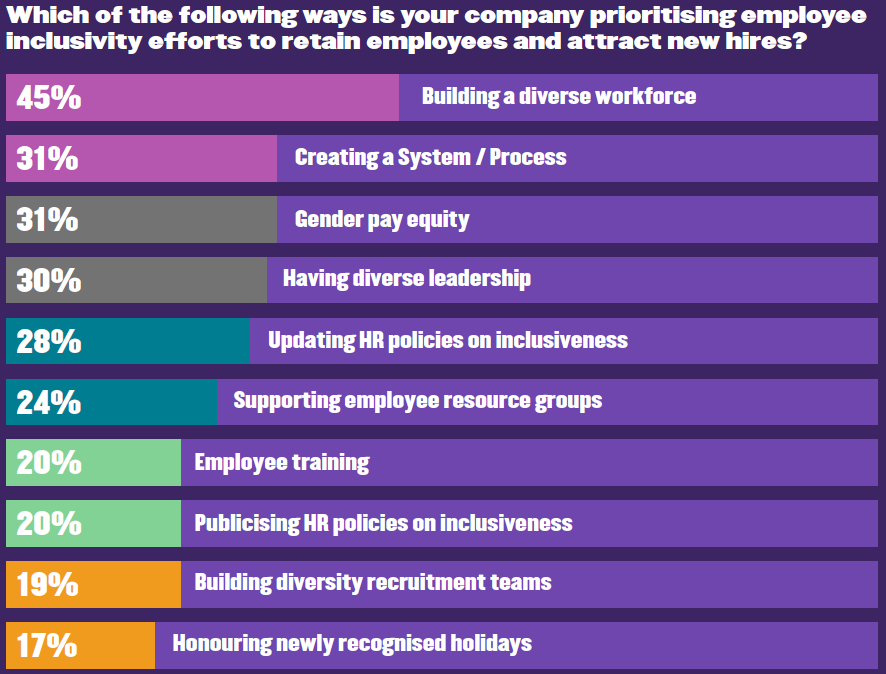 Claire Barnes, Monster's Chief Human Capital Officer, said: "The world of recruitment, like the rest of society, has been rethought in recent years, with diversity, equity and inclusion (DEI) coming to the fore. Our survey found that almost a quarter of organisations already include diversity, equity and inclusion in their recruitment processes and strategies. In addition, 30% are looking to encourage greater diversity in senior positions."
Competitive advantage
Diversity and inclusion are not optional, especially for young talent. For Generation Z, millennials and even Generation X, an organisation with clear DE&I strategies is key to attracting recruits and retaining existing talent. For them, equality and diversity are as important as reward and recognition, according to the survey.
For Generation Z recruiters, 47% told Monster that more candidates than ever are interested in a company with DE&I efforts. In comparison, 32% of younger candidates (18-24) consider diversity and inclusion initiatives on gender, gender pay equity and proactive response to social issues to be increasingly important.
However, despite all the good intentions of companies, change is so slow, and only 8% of employers said that DE&I initiatives are among the top three changes they make to attract new employees, although this may also reflect the fact that they feel they already have strong processes in place.
Neurodivergent
When it comes to people with disabilities, currently, only 19% of UK companies report having a programme that includes neurodiversity. The survey also reveals that medium-sized companies are the most prepared, with 25% already having a programme in place, followed by large companies with 23%.
This may reflect that large companies are aware of the issue but are less agile in their response. However, small companies have a long way to go to catch up. About half as many small companies (12%) have neurodivergent inclusion programmes.
Barnes added: "But diversity isn't what you say; it's about what you do. It isn't just the right thing to do ethically, it benefits the company, the workforce, and the communities we operate in. It's an ongoing task, and companies recognise they have more to do. However, it's concerning that just 19% of employers have strategies to engage the neurodiverse. It's an area that needs focus and action for employers, or they risk missing out on those with unique talents."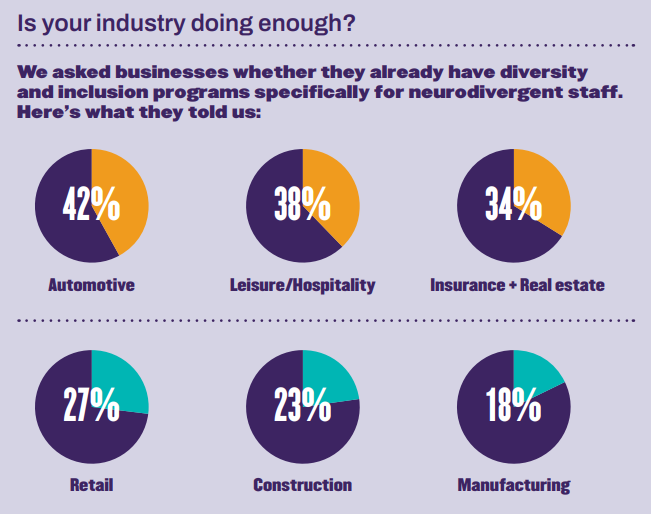 We all benefit
It is important to remind companies that diversity, equity and inclusion are not about ticking boxes. Rather, it is about making transparent and meaningful changes that embrace all workers to feel an essential part of the organisation and give them space to flourish.
Overall, Monster defines effective diversity, equity and inclusion policies as active measures to ensure that people of different ethnic, gender, ability, cultural and personality backgrounds are represented, given opportunities and supported in the face of historical and structural prejudice.
Barnes concluded: "We are encouraged to see that employers are making changes to create a positive working environment that recognises and rewards differences, as ultimately we all benefit."
In this article, you learned that:
86% of employees consider diversity, equity and inclusion (DE&I) to be of paramount importance
Nearly two-thirds of employees (62%) would reject a job offer from an organisation with a culture that didn't support diversity
45% of employers believe that building a diverse workforce is a priority to retain existing talent and attract new employees