Ben Knighton, Senior Manager in EY's Corporate Tax business, shares his experience of being a deaf employee, adapting to remote working and his advice to employers about retaining and recruiting people with hearing loss.
When mask-wearing became mandatory in the UK last July, it proved quite a challenge for me to communicate with people. Sometimes I'd revert to the universal gesture of pointing to my ear to show I can't hear them clearly. Most of the time, people get it, and they pull down their mask to help me lip-read them; sometimes, they'll just start talking louder, which can be quite disconcerting.

I was born profoundly deaf. Speaking loudly isn't very helpful for me. It's the clarity of what is being said and the vibrancy of how others express themselves that can make all the difference. In 2019, I had a cochlear implant: a small, complex electronic device that can help to provide a sense of sound. While the implant hasn't restored my hearing, it does give a useful representation of environmental sounds and aids my grasp of speech. For example, I can now hear my baby daughter crying from a different floor in the house.
Inclusive technology
It's also made a difference at work too. I've been working remotely since the first lockdown. Thanks to technology, such as the automatic captioning feature on Microsoft Teams, virtual meetings are more accessible. I can feed the audio output directly from the laptop to my cochlear implant and crank up the volume without disturbing my family!

The increased use of video calls means I can lipread and also read body language. Also, people tend to speak one at a time in virtual meetings, which isn't always the case for in-person meetings. But, like most people, I am missing the lack of real-life interaction with colleagues and clients.
Providing adjustments at recruitment stage
I joined EY's graduate scheme 13 years ago. The firm stood out to me as there was a real focus on continuous professional development and exposure to interesting clients. Also, EY provided sign language assistance for my initial interview, and they really went out of their way to make me feel comfortable.

My advice to employers would be to take the time to talk to members of staff about their hearing loss and understand the adjustments they need to perform at their best in the workplace. Often there can be a general reluctance for affected employees (or prospective employees) to disclose their hearing loss in the workplace for fear that it may harm their job prospects or career progression. EY offers workplace adjustments, so anyone with a hearing loss (or any other disability) can request an assessment through the HR team to determine what adjustments they need.

Employers should also consider their firm's culture. Is it inclusive? Do employees and prospective employees see people like them and feel they belong? It is important that an inclusive culture is embedded in all aspects of the employee experience. At EY, difference and diversity are valued and never judged. The firm has six employee networks that focus on diversity and inclusion, such as the Ability Network, which supports people with disabilities.
Creating communities at work
Along with another colleague, we set up EY's Hearing Community which I now co-chair, and this is part of the wider Ability Network. We have around 100 members: some have hearing loss and tinnitus, others are parents to children with hearing issues or are allies and want to provide support to someone in their team or family.

The community increases awareness of hearing conditions, and we provide support to employees on workplace adjustments, accessibility to technology, awareness training, and peer guidance. We also host events and workshops for members of our community and wider audiences.
The community has played a really important role in giving our members a space to come together virtually, especially during the last 12 months, and find support. Deaf people, in general, are at risk of further isolation due to social distancing rules. Not having the ability to read lips or body language can adversely impact deaf people's interaction with others in a social environment.

Employers can play a vital role by bringing people with hearing loss together in informal ways to create a sense of belonging and inclusion. In turn, this will create loyalty and mean individuals bring their whole selves to work and feel a part of something bigger than just their job.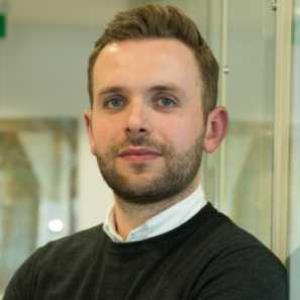 Ben Knighton is a Senior Manager in EY's Corporate Tax business.