CEO Michael Frohlich and Chief People Officer Helen Matthews at Ogilvy explain their approach to diversify the creative industry and why less talk and more action is the way forward.
Marketing and advertising campaigns should reflect society, but this is difficult to achieve when there is a lack of diversity among the people creating them.
Or, as Michael Frohlich states: "We can only mirror what society is truly like if we reflect society in our people. Creativity can come from everywhere and, in fact, the more opinions and the more diversity of thought you have brings a new richness to the creative product.
"So, yes, we have a responsibility in terms of our people to be a more diverse and inclusive business, but equally it will make our work better, us more effective and future-proof our business. It is also the right thing to do."
Frohlich is CEO of Ogilvy UK, a leading advertising and marketing agency. Aware that the creative sector tended to be mainly white middle class, the company set about attracting diverse talent.
In 2016 it launched an apprenticeship scheme, called The Pipe, to offer more employment routes into the creative area for people from a broader range of backgrounds. And, it's been successful – last year two of the 'pipers' were named as campaign faces to watch.
Importantly, Ogilvy has made a point of listening to feedback from The Pipe cohorts and adapting and improving along the way.
"We did an intense deep-dive with the last two cohorts in terms of what would make it more attractive," Chief People Officer Helen Matthews explains.
"We know that, as an industry, there's been the perception that it's not what you know, but who you know. Therefore, our intention has been to shine a light on the opportunities at an earlier stage and in wider communities.
"It is one of the reasons we partnered with Uptree and the Brixton Finishing School. We want the emerging talent coming through to see people like them and that we're not all middle-class, posh white people anymore."
The Pipe has also shone a light on the importance of inclusivity for Ogilvy. One of the biggest learnings from the recent feedback was around accommodating different personality types. Some apprentices said they felt left behind during busy periods, especially those who were more introverted. The response was to give each apprentice a mentor and also regular check-ins with Matthews' team.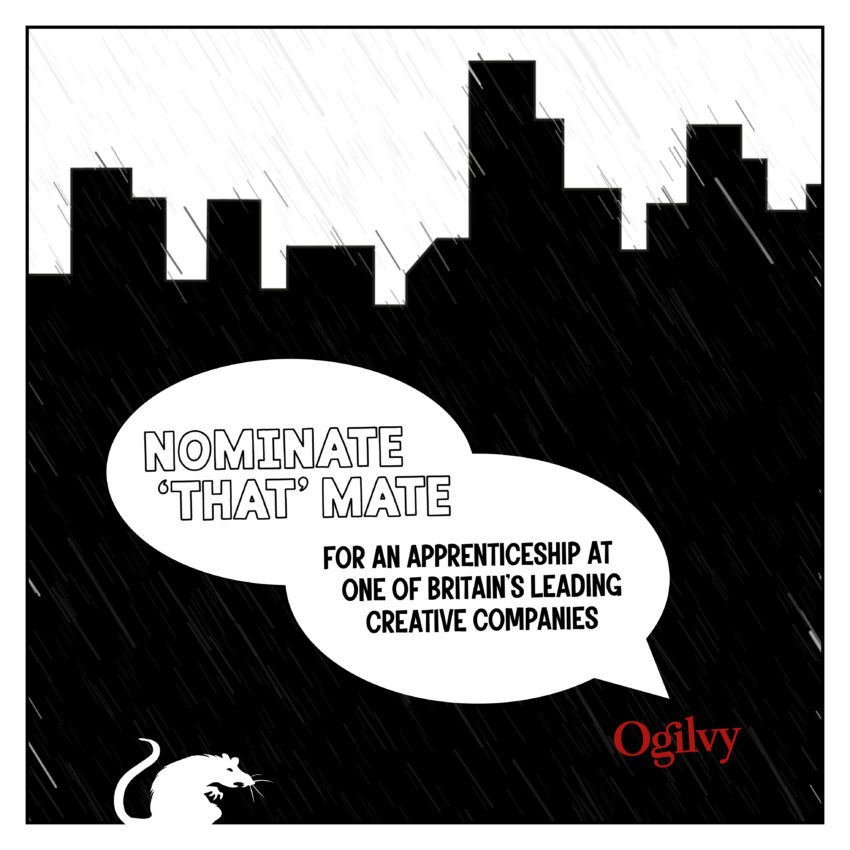 Five networks equal an invincible force
There are also five networks: Proud for LGBTQ; Roots for BAME; Parents and Carers; Equals for gender equality; and Rewired for neurodiversity. Each leader sits on an inclusion board, which includes Matthews and Frohlich.
Says Frohlich: "Our networks are active forces within the business. Add to them the brilliant D&I strategy and roadmap that Helen and her team created, and our networks have become almost invincible forces."
Matthews agrees: "The inclusion board, made up of those networks, has gone from being a group of people that all came together to be a highly functioning team. It's where we check-in on policies. For example, we worked with Stonewall on our gender identity policy then, through the inclusion board, made sure that it not worked but was well communicated."
She says Ogilvy has recently set up its first leadership academy, which helps existing leaders hone their skills and acts as an accelerator for those who are under-represented at senior level.
And all this hard work doesn't go to waste. At Ogilvy, measuring progress is essential. "There's no point in doing a whole lot of stuff and chasing your tail if you're not measuring," Matthews argues.
"For example, we've got a D&I and belonging strategy and action plan. At the end of each year, we measure ourselves in each workstream and report back to staff in a transparent way."
Responsibility to diversity
Frohlich advises other companies wanting to follow Ogilvy's example to explore the funding opportunities available to support D&I initiatives. He says: "We make very good use of our apprenticeship levy from the Government; because of the size of the business, it's quite a lot of money. But we absolutely use it.
"It comes down to talk versus action. Companies can talk about doing this stuff, but there really is help for them to act."
To the naysayers who may think what is not broken doesn't need fixing, Frohlich says: "We are part of a proudly diverse country, and the business community overall has the responsibility to diversify its workforce.
"There's been a systemic problem in the ad and marketing industry, based on a nepotistic, originally Oxford/Cambridge, small set. It's taken a long time to get out of that.
"For so long, the creative industry operated on personal relationships generally made with people like me. It's only over the last decade that personal relationships just aren't as important, thankfully; it's about output, delivery and measurable success – all the things that it should be about. This shift in mindset allows for the acceptance of a diverse workforce."
Inclusion and working remotely
Like all organisations, Ogilvy had to deal with the challenge to its operations from COVID-19. In particular, it posed a difficulty with bringing in young people who may never have worked in a large organisation before.
The response was to gear the leaders up to support their teams and, as Matthews points out, "make sure that the introverts were OK, that out of sight didn't mean out of mind.
"At the start of lockdown, we gave some guidance for all staff in terms of working remotely. We did a heap of training around inclusion as we were potentially going to be in a hybrid of the office. Our focus was to ensure careers didn't get derailed, and opportunities were still there.
"Also, our leaders have as part of their objectives and KPIs our D&I and belonging strategy and action plan – which will be measured in their career conversations."
For Frohlich, leading the staff during the pandemic has transformed him from CEO to "chief empathy officer". He believes this has been important when dealing with both staff and clients. He stresses that good remote leadership relies on three key things: "One, tell the truth, be transparent. Secondly have a bit of charisma and skill at storytelling when delivering the message. There's no point communicating if no one is listening to you. The third one is to act – every time we talk about doing something, we then do it."
Looking at the industry as a whole, there has been a concerted effort to include more diverse faces in advertising campaigns. Unfortunately, this has resulted in adverse reactions, specifically with the Sainsbury's Christmas advert, which was criticised for being too ethnic-focused.
Frohlich doesn't think this will prevent what he sees as a step in the right direction. He says: "I see it more an overcorrection, which will then balance out. I would hope that the feeling is it might seem a bit forced, but better that way than not at all. But at least it's progress."