Marina Ruggieri, IEEE Fellow and Professor of Telecommunications at the University of Rome "Tor Vergata" explores the potential of neutral technology in fostering greater diversity and inclusion.
Artists would often consider a blank canvas as a neutral means to transfer their ideas and emotions into a piece of art. The same process happens with the neutrality of technology, as those working within STEM would look at technology as a neutral area for potential, which can be completely altered to suit them. These individuals have the role, competence, and responsibility to make the canvas become artwork. What's more, viewing technology as a neutral tool has accelerated its ability to recognise diversity and inclusion.
Looking at the diversity and inclusion of technology on a global scale, it is clear to see that many countries set their priorities for frontier technologies through national plans for research and innovation, which often aim to strengthen specific sectors.
In several cases, issues of diversity get attention, particularly within education, and most notably in countries such as South Africa and the United Kingdom. Therefore, within these countries, the importance of female entrepreneurs is encouraged, and programmes are launched to develop skills that can bring in groups that have previously been underrepresented.
Neutral technology – AI as an example
An example of neutral technology can be seen with artificial intelligence (AI). Although AI has become an increasingly popular technology throughout modern-day society, it often generates mixed feelings, and many individuals lack trust in it. One worry is that it has the potential to becoming uncontrolled due to the evolution of algorithms, which could cause damage to humans.
For example, the troubles caused to the protagonist of the movie "2001: A Space Odyssey" by a super-intelligent calculator is hard to forget, for people of all generations. AI algorithms need to be trusted in the most objective way – and what is more objective than a truly diverse and inclusive team of developers?
It is essential for an AI product or service to be developed by a diverse team so that it works for the whole of society, and not just a specific section of it. This is particularly important in developing countries, whereby fewer people or organisations have the technical skills needed to develop said AI services. Additionally, they may not have the resources to support the deployment of AI, which requires a diverse set of skills. These are needed to ensure the AI technology is used for the good of society and the development of emerging economies.
Diversity and inclusiveness can be a strong guideline for the algorithm evaluation from an ethical and performance point of view. It is expected that AI will become increasingly pervasive and, if properly developed and tested, will become an extremely beneficial pillar for the sustainability of the planet.
But AI is just one of the many examples of technology frameworks where diversity and inclusiveness can improve the results, create powerful osmosis between the means and goals, and create a natural outcome.
Why collaborating is key
To appreciate the role AI can play in creating a more equitable environment, it is important to trust technology and its neutrality.
For example, daily activities in both social and professional domains which are widely supported by the neutrality of sophisticated technologies such as AI, mean diversity and inclusion can be more easily guaranteed.
Neutral technology is the "guardian" of equitable opportunities and can contribute to various domains in the most diverse way. However, an unbalanced trust in the technology itself could in fact result in a lack of diversity and inclusion. As humans, we are intrinsically non-linear, and our unconscious bias is aligned with natural behaviour. The rational approach of AI-based algorithms is an effective means to balance the human non-linear trait in various application domains, like recruiting procedures.
To achieve the best outcome, teamwork between humans and AI is needed, as this provides a contribution of rational and non-linear behaviours. The rational and data-driven approach identifies the shortlist of solutions to a given task or issue while the non-linear contribution helps identify the spike often associated with an ingenious solution.
The "blank canvas"
Technology is intrinsically neutral, which means it has the ability to make decisions and provide options without compelling anyone else to. As humans, it is in our nature to have different opinions based on a number of demographic factors such as sex, culture, birthplace and age, to name a few.
Although different individuals will make varying decisions about the use of technology, the technology itself enables those individuals to move in a direction that they would otherwise have been unable to do.
Intelligent technologies have the potential to both benefit and damage us and the environment as we know it. However, the individuals working on the technology have the opportunity to alter it to fully benefit them. Indeed, this is indeed a fascinating opportunity, which is open to all in a broad breadth of diversity and inclusiveness.
With STEM industries becoming a more diverse and inclusive place, the individuals working within the teams are taking a fresh approach to the technology, with the individuals becoming more diverse and inclusive, the application developers also do, which ultimately provides more beneficial results.

It is great to see new technologies come to the surface which are more fair and unbiased, as these really are the best ally when it comes to designing an attractive and lasting future for humans and the planet.
Ultimately, all intelligent technologies which are prone to exchange data and allow the proper use of knowledge are an ally when it comes to diversity and inclusion. 
---
In this article, you learned that:

Diverse teams are essential to making the creation of a product or service benefit wider society and not just one section.

Humans are intrinsically non-linear and our unconscious bias is aligned with natural behaviour.

The "rational approach" of neutral technology such as AI-based algorithms is a way to balance the human non-linear trait in various application domains, like recruiting procedures.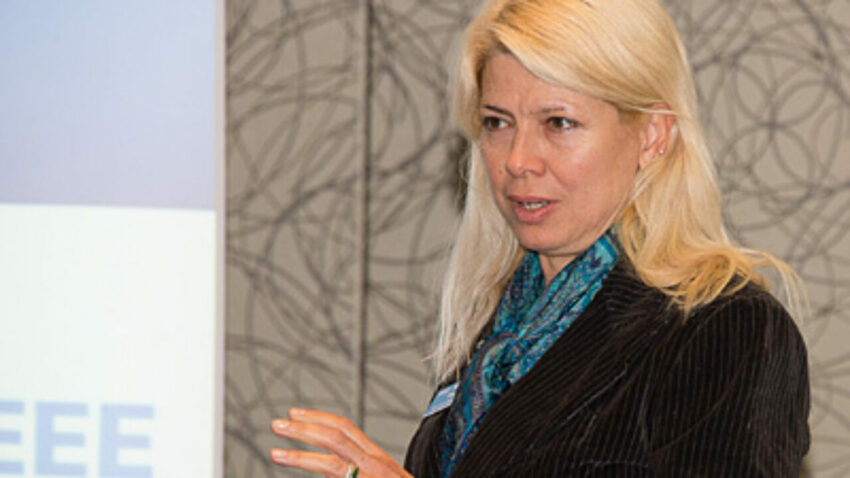 Marina Ruggieri is an IEEE Fellow and Professor of Telecommunications at the University of Roma "Tor Vergata."