Understand your value, surround yourself with mentors and support networks, and explore your options to move on if your working environment is discriminatory. This is the advice from Dr Anne-Marie Imafidon.
Discrimination can take many forms. Based on Dr Imafidon's experience, she says: "I don't have the tools to unpick why someone's discriminating against me, whether it's my age, ethnicity, gender or accent.
"So, I always go back to knowing and believing in my value, independently of the current situation. Understanding your worth means you can recognise discrimination as it's happening; discrimination then becomes 'a them problem, not a you problem'.
"What has also worked for me is continually exploring my options and being ready to move to somewhere where I'll be celebrated rather than tolerated."
Dr Imafidon is a role model and champion for women in the fields of Science, Technology, Engineering and Mathematics (STEM), for which she was awarded an MBE in 2017. She was voted the most influential woman in tech in 2020, has appeared as an arithmetician on TV's Countdown and was part of the Hamilton Commission's research into recruiting Black people in motorsport. She has also written a new book: She is in CTRL.
Her award-winning company Stemettes, of which she is CEO, was set up ten years ago to encourage and engage more young women and non-binary people with STEM and STEAM (which includes the arts). Dr Imafidon explains: "We're doing it because many young people are making career decisions without having all the information.
"There's a lot the sectors could do in terms of nurturing, curating and doing its part to create different types of role models and allow different types of people to thrive in the industries."
Recruitment needs to change
Employers should respect their employees and value contributions from those slightly different from "the norm of what success looks like". Businesses need to focus not just on current recruitment but also look ahead to the next generation and their legacy. That may include getting involved in organisations such as Stemettes and its mentoring, skills, networking and visibility programmes.
Dr Imafidon adds that leadership needs to prioritise 'diversity' in all its forms because "if we don't have the right kinds of people in the room, then we're more likely to create technology that ends up being harmful or takes us backwards."
But getting the right people in the room is being hampered by current recruitment practices. She cites the example where a company took three years to replace an employee retiring, and the question was, who got passed over?
Equally, young people are savvier regarding diversity, equity and inclusion in the workplace and will often cite the company's values as more important than money and their employment status.
"They've been born into a world where they've seen a lot of problems and are a bit more aware of what success should really look like," Dr Imafidon argues.
"They are more likely to become entrepreneurs and create a space that meets their values and succeeds in how they define it."
Paying it forward
While being named the most influential woman in tech was "another one to add to the value books", she didn't rest on her laurels. Instead, it made her question what she was achieving with her influence and what more she could do to pay it forward.
Has she ever suffered from impostor syndrome? "Not often because it's a result of the environments you're in," she says. "I feel that impostor syndrome is when you're about to be found out. There are very few scenarios or spaces where I have not been invited. That is why the whole pay it forward thing is important to me. I want to positively reinforce peoples' values and why they're in the room."
Dr Imafidon accepts that there is a fear factor among women and people of colour in the tech industry when they don't see anyone who looks like them, even when they've been invited in.
In that case, her advice is: "Remember that there's a lot of things that you have that other people in the room don't have. It tells you that what you have to say will be insightful and add value – even though it may not seem like that to you."
Dr Imafidon is extremely passionate about paying it forward to women – who are not represented or are often an afterthought in many things. Dr Imafidon likes to use the example of period tech. She states: "Tech companies discover the period every three years, and they build these things that are essentially useless."
Helping women to navigate their way in tech drove her to write her forthcoming book, She is in CTRL. She wrote it partly to enable older women to have the Stemettes experience, which is currently only available to those aged between five and 25. It's a starter guide for dealing with technology and helping women to develop digital literacy essential for 21st Century living.
Lack of diversity in motorsport
Equally, race is another driving force behind Dr Imafidon's work. Turning to the Hamilton Commission, Dr Imafidon says the motorsport industry lacks diversity and inclusion. "You have Lewis Hamilton, and when you look across his team, you can pick out the Black face.
"We surveyed many folks and gathered a lot of data to show the extent of the issues in motorsports, which is engineering. One of the most interesting findings is that everything in motorsport happens around Silverstone, so you have no hope if you don't live nearby.
"The report has lots of learnings for the motorsport industry but also for wider STEM and STEAM sectors in terms of how we show people the options they have and allow them to make an informed decision about what happens next."
It would help if, in addition to home and school, young people needed a third extracurricular space to enable them to explore and understand what they could achieve, believes Dr Imafidon. Also, it was crucial to collect data and act on it.
While not against quotas, Dr Imafidon believes that organisations need to be in the agile, iterative cycle of making the first mistake to make the next one and keep on making better ones. Those not making mistakes were not doing anything.
Find your tribe
Finally, what advice would she give to underrepresented individuals interested in a STEM career?
"Number one, find your tribe," she says. "There are so many different aspects of technology. If you love knitting, there'll be knitting tech; if you love fishing, there'll be fishing tech; if you love cooking, there'll be food tech. Start from what you know and what you love. If you're stuck on finding a tribe, find a group to go with because, as you're all learning and discussing together, you have an enriched learning experience.
"That's what's so powerful about Stemettes. It's not just about the sessions and the learning but the peers and role models they connect with. So, find your tribe, don't do it alone. It's much more fun, and you go further when you get together."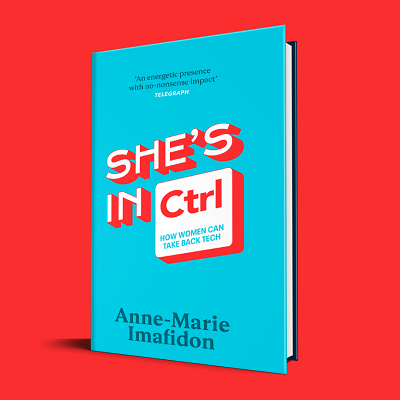 Dr Anne-Marie Imafidon's new book, She is in CTRL, was published on September 9, 2022.