With more than 750 employees from 65 nationalities, you might expect that the language learning platform Babbel was naturally diverse.
According to Eileen Barnard, Senior Organisational Culture Manager for DE&I, yes and no is the answer. "We do have a diverse range of people, but that in itself brings challenges," she explains.
"We may be diverse in terms of having people from various nations and cultures, but people will still have their own lived experiences, different ideas and ways of working regardless of which language they speak."
Babbel is committed to becoming a completely anti-discriminatory and inclusive company, both for users of its products and employees, and has introduced several initiatives to make this happen.
From day one, new starters are given an insight into the company's commitment via DE&I training as part of the onboarding process. "The idea is to bring them to the point where they really understand our values, how we work and our culture," Barnard reveals.
"And that way, they have some sense of a shared language – the DNA that runs through Babbel. Our culture and values are extremely important topics we talk about all the time.
"If you were to come in from somewhere where they don't talk about diversity and inclusion, there'd be things we say that might not make sense. So, we start by creating that shared language and understanding and talking about some things they will experience working for Babbel.
"For example, we have a group of ambassadors from around the business who look at our content, such as what we want to post on social media or include in our app to sense check it."
A warm welcome
Barnard believes it's important to find different ways of engaging with people, particularly those who have come from places where DE&I is not even a topic. During their first month, new starters are invited to a welcome day and asked to share something about themselves, where they came from, and their favourite book or film.
The company celebrates various cultural events, including Eid and Pride, to help people better understand each other and collaborate well. There's also an internal podcast where people can talk about various topics, not necessarily work-related.
"We did one on grief in the workplace," says Barnard. "People have so many different experiences of grieving; allowing people to have those conversations with each other is powerful. We have 'Stranger Talks' every two weeks where different Babbelonians talk about something they've experienced, all under the umbrella of belonging and DE&I. It's surprising how often people want to get involved and be part of it.
"People working with languages want to be able to communicate with others and understand them, so we've built on that."
Through its works council, Babbel has a contract with its employees which covers discrimination, bullying and sexual harassment and lays out guiding principles for how people are expected to treat one another and the processes for dealing with any violations. There are also regular training sessions, including informal events with guest speakers.
"We listen to what people are saying," Barnard states. "We moved building during the pandemic, following which many new people started working with us remotely. Now we are listening and trying to understand people's needs to ensure we make the new space accessible for every Babbelonian."
Barnard adds that, since the company was set up 15 years ago, there has been an increase in the number of employees who have become parents. Babbel is keen to ensure they don't feel disconnected from the company when they go on maternity or paternity leave. Parents can opt to receive regular updates about the company and are invited to coffee mornings with colleagues, to which they can bring their children.
DE&I guidelines
It's generally accepted that DE&I practices tend to be more successful where there is support from the leadership, which is undoubtedly the case at Babbel.
CEO Arne Schepker shadowed every team within the company to experience what employees went through daily and subsequently make the work environment as inclusive as possible. He also runs monthly 'Executive Ask Me Anything' sessions to create a level of honesty and open debate culture.
Babbel recently put together a detailed Diversity, Equity and Inclusion Glossary. It's a comprehensive set of guidelines that acts as the go-to reference and benchmark for content creation within Babbel products and services.
Barnard says the guidelines were not so much a necessity but a way of strengthening what was already there. She explains: "From the beginning, we were invested in ensuring that our content was inclusive; it's just that we didn't have something written down and that we could check. I don't think we've experienced anybody not wanting to use the guidelines. The passion from the people who built the glossary helped bring everyone along for the ride. I think other companies would benefit from it because there will be something that applies to what they are doing."
Babbel has applied the guidelines to a new product, the Voice Talent Database survey, to create better representation within its in-app audio content. The survey invites voice talents to share their stories or answer questions about their unique identity. Content creators can then write storylines and characters based on the talent that will voice them rather than choosing a voice based on a pre-determined storyline.
Says Barnard: "We recognised that it's challenging to get lots of different representation and, when you're learning a language, you're not always going to hear the same type of voice. The survey highlighted that and allowed us to look at what we needed to do to improve. Having a wider pool to choose from and be much more representative in our audio is necessary from a learning and inclusion perspective."
Avoiding virtue signalling
A key aspect of her approach to DE&I is intersectionality. "You can have two people sitting next to each other from exactly the same place but have completely different life experiences," she argues. "So why wouldn't we consider that when discussing DE&I topics and want everyone to feel like they belong and have the best possible work experience? If we don't take an intersectional approach, we'll not win."
While Babbel supports awareness events such as Pride and Black History Month, it doesn't make any money from them and strenuously avoids virtue signalling. During Pride month, it incorporates the LGBTQIA rainbow into its logo. It first did this at the start of the pandemic two years ago.
"The pandemic closed everybody off and meant that we did not have access to our community," Barnard reveals.
"People were maybe being asked to go back to families that were completely homophobic or transphobic. We saw that Black trans people were suffering more than anyone from domestic violence."
During Pride, the company wrote articles, invited speakers to the office and hosted podcasts. But it doesn't just support LGBTQIA staff during June but year-round, along with everyone from diverse backgrounds.
"If your staff don't feel supported, you need to take a step back and listen," Barnard stresses. "Listening is the most important thing you can do, so I am very against companies using people who are genuinely marginalised in society to make money."
Where there's a will
Barnard has been with Babbel for four years, having previously worked in the public sector in London. She studied German at university and had spent time in the country, so the move to the company's office in Berlin was a perfect fit.
"I've done several jobs, and now I'm doing the one closest to what I'm trained for," she says. "It's been a perfect journey. There is room for growth, and I've been lucky with my line managers because they got me and could see what I was passionate about. I was allowed to try other things out, which also helped our DE&I work.
"I have brought all the things I learned in London with me and maybe pushed us towards a UK way of working. When people started working at Babbel, they've been surprised by the DE&I things we do. In the UK, diversity at work has been a topic for much longer, whereas here, it's something we're just getting going on."
Looking ahead, Barnard feels that German companies are beginning to wake up to DE&I being more than just about gender and that more positions are becoming available for DE&I specialists.
She adds: "People are starting to be much clearer that they can't just hire white men and that Germany is becoming a much more diverse country. So, they need to consider that when they're employing people and think about representation. So, the will is there."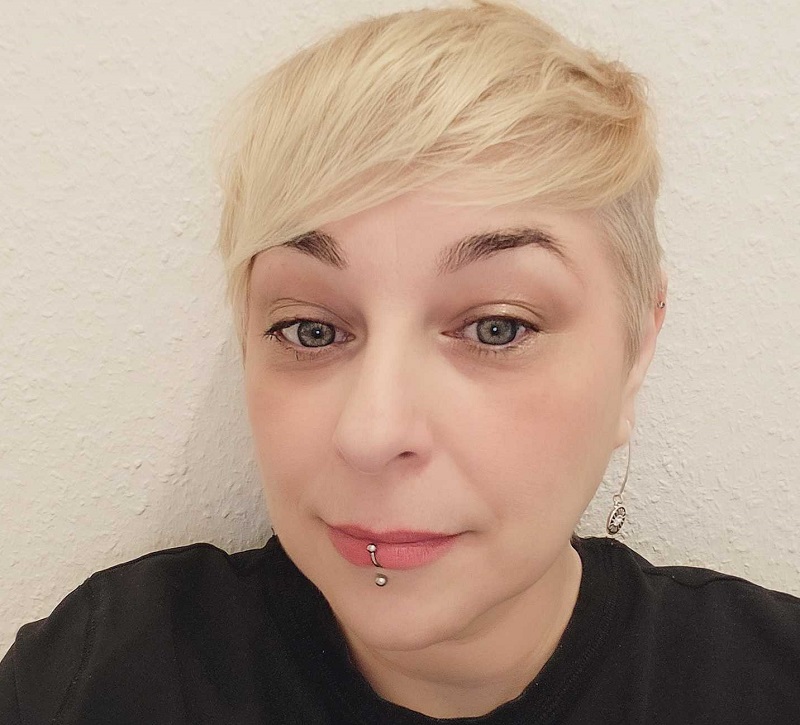 Eileen Barnard, Senior Organisational Culture Manager for DE&I at Babbel.