Black people in the US are at such a financial disadvantage they are being charged for the colour of their skin. Here Shawn Rochester, author of The Black Tax: The Cost of Being Black in America, calls for eliminating this 'tax' by providing more and better career opportunities and investment in businesses in the black community.
Racism has cost Black Americans more than $70 trillion since the start of the slave trade, and, today six million jobs and 1.4 million businesses are missing from the Black community in the US.
These stark figures are revealed in Rochester's book The Black Tax: The Cost of Being Black in America. His work examines the financial cost of anti-Black discrimination caused by conscious and unconscious bias from individuals, corporations and institutions. More importantly, it discusses what is needed to eliminate this 'tax'.
Rochester, a financial guru, sought after speaker and successful entrepreneur, is CEO of Good Steward, LLC and Founder of PHD Enterprises and The IDEA Institute. He wrote the book to educate people about the financial implications and underline the importance of creating jobs and investing in Black enterprises.
But it must start with education. "Otherwise, whatever you do, will be ill-informed," he explains. "And then the outcome will be sub-optimised. And that's why I wrote the book.
"I've done so many talks, lectures and presentations, and distilled information from hundreds of different sources to tell a powerful, cohesive, non-opinionated, subjective conversation about the impact of this past and present. It's really difficult to work on problems if we don't understand what the current state is. Also, we need to understand the pathology. Because if you don't understand the pathology, we're going to revert to the current state, which is people think it's Black people's fault."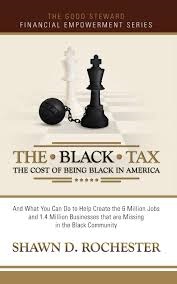 Financial impact
One example of the financial impact of structural racism in the US is the housing market, where Black house-hunters will be shown 20% fewer properties than their white counterparts.
"But then it starts to get more impactful when you inquire about a mortgage. If you have a Black sounding name, the treatment that you get is equivalent to having a credit score that's 71 points lower, which is a massive difference," says Rochester. "You will more likely get a higher interest rate loan versus your white peer, with the same creditworthiness; the only difference is being Black."
This racial profiling significantly impacts cash flow because it affects the ability to accrue wealth to pass on to the next generation. Also, transaction fees tended to be higher for Black house-buyers. Similarly, when buying a car, Black customers tend to be offered less attractive deals.
In a recent study, discrimination was shown to be prevalent in online transactions. A test selling baseball cards on eBay resulted in a 20% price differential between Black and white sellers. The photographs of the cards were positioned so that buyers could see the tips of the pointer finger and thumb of the sellers holding them.
"So just the tips," Rochester reveals. "The very tips of the melanin in the very tip of your finger triggered this kind of impact. It shows up every time you have a subjective decision that needs to be made. And a person can discern that you are Black, from how you sound, what your phenotype is indicating or maybe even your name."
Closing the gaps with PHD
In his book, Rochester introduces an economic framework called PHD (purchase, hire, deposit) to address the "three massive gaps" created by financial bias driving almost all the socio-economic problems. The first was the six million missing jobs.
"The second piece was the gap in businesses," Rochester states. "We've got 2.5 million Black businesses, only 4% of those having employees. That 4% is roughly 109,000 companies, generating 70% of all the revenue from Black businesses— about $100 billion. So, we're missing 1.4 million of those. And, of course, you have the wealth gap, which is constantly growing. It was $841,000, on average, between the Black family and white family. If you multiply that across 17 million Black families, it's $14 trillion."
Organisations needed to have plans, policies, and programmes to stimulate job creation, expand businesses, and provide capital in the Black community. Explaining the PHD formula, Rochester says the P was how individuals spent their money – for corporations, it was supply chains. The H for hiring was how Black people were represented across the payroll at all levels, not just the low-skilled jobs. D (deposits) was about providing liquidity to Black communities: who was managing their retirement programmes, and were Black asset and fund managers part of that process?
"Corporations need to look at how they are augmenting their supplier financing because 21% of all business funding comes from supplier financing," Rochester advises. "Corporations have a disproportionate ability to affect change and in a tremendously powerful and positive way and thus need to look at that framework to meet the needs of Black enterprises.
Paradigm shift
"We have to shift the paradigm. The first thing that people need to understand is what's in it for them. People don't realise that discrimination reduces commerce. Discrimination is bad in all forms. You are abdicating your fiduciary responsibility to drive shareholder value by having discrimination happening within your organisation. Why? Because the pie is much bigger without it."
To illustrate this, in his talks, Rochester tells his audience how much larger the US economy would be if it had included the brilliance and creativity of Black populations instead of excluding them for hundreds of years.
Between 1865 and the mid-1950s, there were 2.5 million patents and the creation of aeroplanes, cars, cinema and many other industries. If Black people had been allowed to deploy their skills, there could have been 280,000 more patents, representing a potential increment of $2 trillion to US GDP.
He adds: "In my talks, I start with the facts. Empathy is important because it's a foundational piece to good problem-solving. But I don't want charity; I want people to understand.
"People often mistake having a monopoly on the resources that are necessary to develop and deploy talent and skill with having an actual monopoly on talent and skill. When you walk into a homogenous room, you're losing, by definition, because you've not included the brilliance that exists in all other populations. That's just a fact. Developing people and deploying those skills is extremely profitable. And we're all losing for not doing that.
"The capital deprivation makes everything worse; you're affecting the strength of families. To dramatically reduce this level of economic deprivation, eliminates the need for alternative ways of making money that can end up being illegal because everybody's got to live, they got to eat, they have kids."
Eliminating economic deprivations strengthens families, communities and institutions, as well as reduces crime. Rochester is deeply aware that discussions about racial discrimination have abounded for many years and that progress has been slow.
Orders of magnitude
He points out: "The jobs, business and capital have been the issue since emancipation, and yet we're at 2% of total US wealth. I wanted to shift the conversation away from the subjective to the objective and quantification. Let's talk about data and studies; I don't want to talk about morality and injustice. I don't want to talk about civil and social. I want to talk about the economic impact of the value of labour extracted from people held in bondage for almost a quarter of millennia and its implications.
"New actions must always follow new thinking. I applied what I consider to be very normal approaches to this socio-economic problem, which is first to shift the paradigm. People need to see the size, scope, and scale of the problem and what's in it for them to invest accordingly. We invest $1,000 in solutions for million-dollar problems, million-dollar solutions for billion-dollar problems, which is three orders of magnitude off, and we're wondering why it doesn't work.
"So, you put money into a $50 million fund, and you think that's going to change the world. Or people say, 'I'm going to invest $140 million in a programme that will create a million Black businesses.' That's not enough. Don't be seduced by the elixir of large numbers. Put that money into 10,000 businesses and really grow them. Or revise your plan and put $140 billion in it, not $140 million, because your orders of magnitude are off."
He stresses that educating people about race is not the main issue; it is creating the economic infrastructure to create jobs, create and expand businesses and provide capital at scale, which requires the increasing by orders of magnitude of the level of investment being made in Black people and Black businesses. And that not getting the fundamentals right inevitably results in flawed solutions.
---
In this article, you learned that:
Racial profiling is disproportianely negatively impacting Black wealth in the US.
Corporations need to address how they are augmenting their supplier financing to be more inclusive of Black businesses.
Organisations must create robust polices and programmes to stimulate job creation, expand businesses, and provide capital in the Black community.
An appropirate level of sustainable investment is needed in Black entrprenuership to avoid tokenistic gestures.