The workplace is not always safe for women! But some companies are taking steps to build an inclusive culture and give them a space to thrive. The employee experience platform Great Place to Work has published a list of the 'Best Workplaces for Women 2022' in the UK.
These survey results are based on how women have anonymously described their experience in the workplace and how they are represented in the workforce and management.
This new edition of 'Best Workplaces' focuses on particular areas, including equality, representation and fairness, and highlights menopause support and the promotion of shared parental leave.
Great Place to Work ranked them by category. The top 3 best places to work in the super large organisations category are Bank Principality Building Society ahead of Salesforce (2) and Admiral group (3).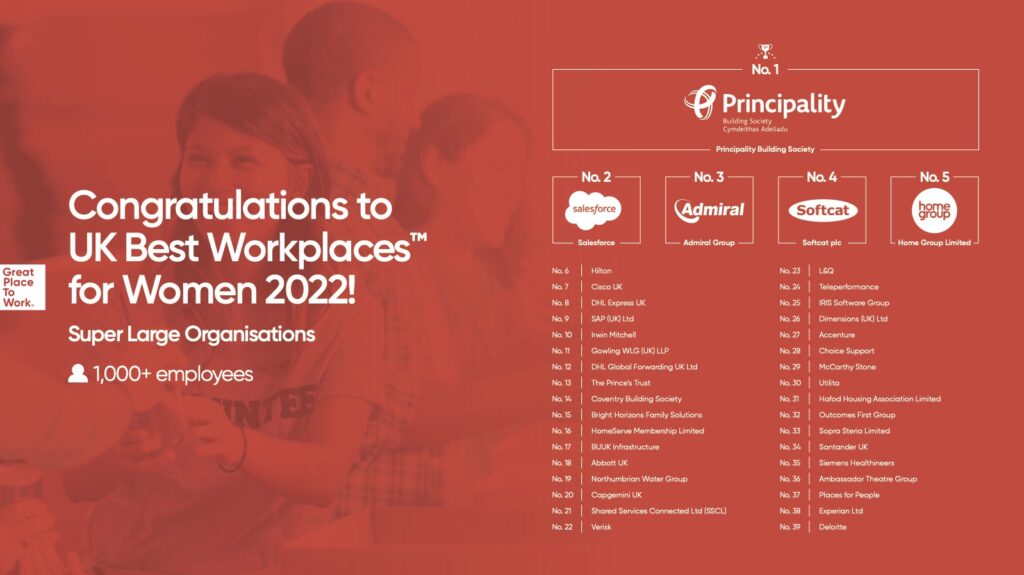 In the second category of large organisations, the top three best places to work are Realise Group, a technology company, ahead of Xero (2) and Biogen.
The top three best places to work for women for medium-sized organisations are Evolved Group, a human knowledge company ahead of Reachdesk (2) and Citipost Mail (3).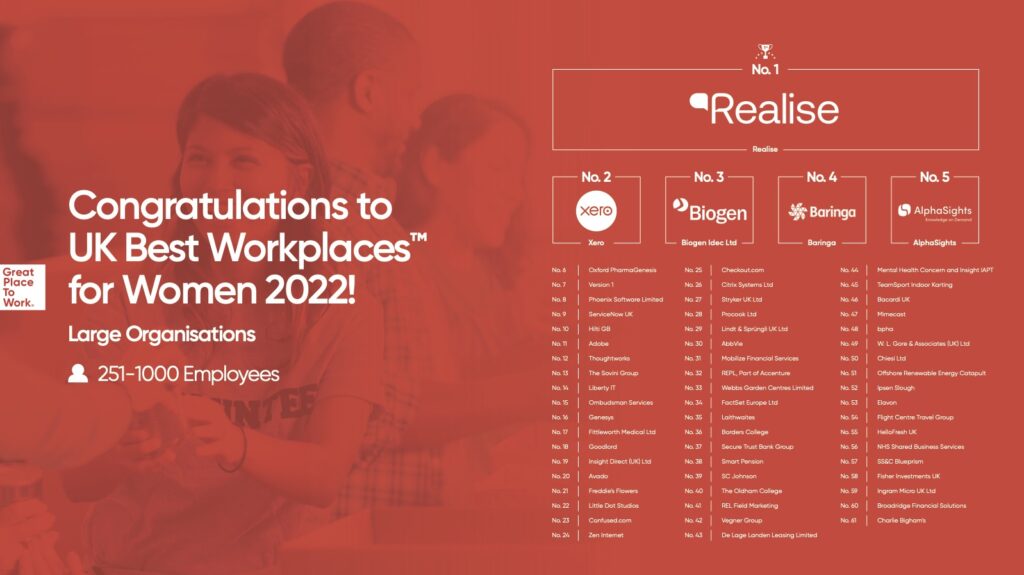 Small companies also offer great opportunities. The best small organisations are the management agency M&C Saatchi Merlin, ahead of Word Monster (2) and MS-UK (3).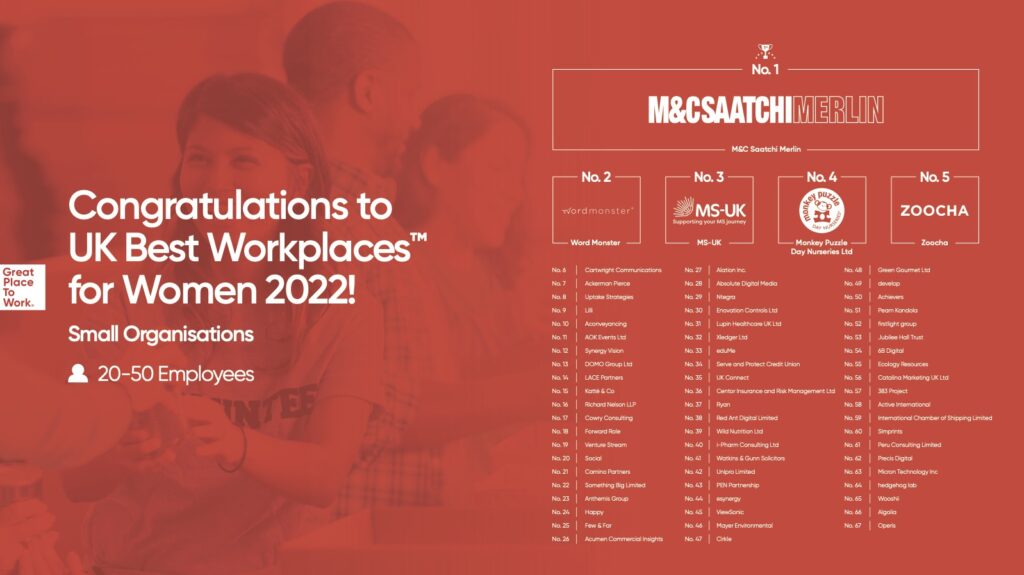 All the Best Workplaces for Women have made gender equality a priority – meaning they treat all their employees equally, regardless of gender. Ensuring equity means compensating for the historical and social disadvantages of women that prevent equal opportunities.
Equity is about removing barriers to advancement and sometimes adapting practices, policies or procedures for those who may be disadvantaged and ensuring that they have the tools to access the same opportunities as their peers, a course of action that is sometimes difficult to follow.
It is well known that the pay gap remains the biggest gender equality issue. British women still earn just 90 pence for every pound earned by a man, according to the latest figures reported by Great Place to Work. While the pay gap has decreased overall (from 27.5% in 1997 to 15.4% in 2021), it has increased slightly in the last year (from 0.5% to 14.9% in 2020).
How to improve?
To change this, it is therefore essential that companies capture data for the first time to see where the gaps are (now mandatory for organisations with more than 250 people).
They also need to develop action plans to reduce these gaps (the Government recommends ensuring a certain number of women on shortlists for recruitment and promotion and encouraging pay negotiation by indicating pay bands). A recent YouGov survey also found that while almost a third (31%) of men received a pay rise, only a fifth (21%) of women did.
The complete list can be found here.