So, what are the winning elements at play when creating an attractive working environment for the modern workforce?
Today, close to 50% of the current working population are millennials and as a result of that, companies are vying to engage and retain this employee demographic.
With a change in both characteristics and values, millennials significantly differ from Gen X and Baby Boomers, making the task of landing home a sense of commitment to your company increasingly difficult with more and more businesses offering creative benefits and business models to attract to this talent.
To create an attractive working environment, HR departments can take a handful of steps to recognise and act on the needs of a modern workforce.
Flexibility is key
As the lines between 'personal' life and work continue to blur, recent research has shown 70% of millennials want a flexible working culture, compared to only 47% of over-55s. This is a clear signal towards the shift in attitude towards traditional and progressive working styles, with more millennials looking to organisations to demonstrate their commitment to flexible working policies.
Technology is rapidly changing the workplace culture, giving its users more freedom to design a work schedule that compliments their unique style and responsibilities. With cyber security far more developed, companies can be less concerned about workers working remotely and showcase greater trust in employees to deliver workload while maintaining a healthy work/life balance.
HR can help to implement policies that are conducive to an overall reduction in employee stress, leading employees to feel valued and subsequently more committed. Most importantly, companies need to embody a culture where flexible working is welcome and value-adding; this will ensure the policies actually deliver in practice.
Employers can ensure they have the core modern workforce they need while adapting to recognise flexibility means different things to different people. Technologies like AI can be an important tool to harness in helping companies have the scope to provide people with different contracts and shifting working patterns. Flexibility now lies at the centre of the modern-day workforce; companies must act to stay relevant or risk losing key talent.
Ever-evolving, ever-learning
The opportunity to learn and grow has become an ever more important factor in retaining millennials, yet organisations have often missed the boat in meeting this as a career priority.
With millennials setting their work priorities around expanding and honing their knowledge and skillset, companies able to provide a coaching mindset of supporting workers to become the best they can be will emerge as frontrunners. With stretched hours and limited resources to match this consistent need, firms can showcase their commitment to development by integrating AI-powered learning platforms to customise plans against unique learning styles. This platform could include new tasks and responsibilities to ensure employees are growing their career with purpose.
Equally, as pressing is the reality that over half (54%) of all employees will require reskilling and upskilling within the next three years to meet the pace of technological advancement. The modern workforce will look to L&D leaders and companies to put in place programmes to ensure their skillsets won't be rendered obsolete.
Employers can use analytics embedded in an integrated learning platform to identify and plug in skills gaps with tailored training modules to upskill employees at the speed of need. By encouraging the use of learning and development tools, from webinars to screen-sharing tech, HR managers can encourage the exchange of knowledge between teams and colleagues to curate a more dynamic workforce and ensure information doesn't leave a company when an employee does.
Performance feedback
Today's employees are attracted to a work environment where frequent and responsive communication surrounding performance is embedded in the culture. With greater value being placed in collaboration and constructive feedback, companies must review their performance review processes. Digital learning tools and real-time analytics provide a compelling solution to regular performance feedback.
A unique AI-powered learning platform can lend itself naturally to providing employees feedback in real-time during a project to address any issues or questions alongside the process as opposed to the end, helping progress to feel measured more closely.
Having real-time analytics of employee's development readily available allows firms to spend more time efficiently analysing performance and subsequently providing more accurate feedback towards each worker's needs to improve and upskill. To be able to host this level of efficient collaboration and performance feedback on one interface would unlock significant returns on employee satisfaction and productivity while meeting their core needs.
Digital as a minimum
Recent research showed slow and archaic technology was cited as the most frustrating factor for nearly a third of Gen Z workers, demonstrating the reality that embracing innovation is no longer a strategic advantage but an imperative for your business when attracting and retaining modern talent. Access to smarter technology can breed greater clarity at greater speed, where employees can plug into a technological framework that shows their impact and pathway giving them a clear sense of direction.
As workers tastes evolve so have our systems, workplaces now have the ability to improve legacy systems or replace them to be more convenient and secure. Integrated learning platforms are a key part of this transition, with online interactive tools now seen as necessary additions to your firm's technology portfolio.
Don't get left behind
The tidal wave of change is among us all, technology, working styles and priorities are evolving and the fight to engage millennial and Gen Z employees is picking up pace.
Learning and development need to be a crucial part of this strategy and a gamechanger for businesses is the adoption of digital learning platforms that not only meet the needs of the modern workforce but also consistently empower their career growth.
The advantages are there for the taking, with bolstered productivity, employee engagement and regular upskilling, the chance to give your modern workforce the ultimate edge is here.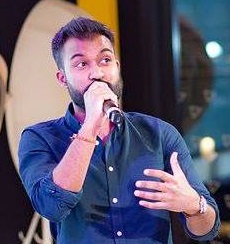 Nelson Sivalingam, CEO at HowNow.