As an African woman, it's normal to walk into a room and feel like a black dot on a white canvas. In a world where white is the default, it's not common to find companies that have racial diversity. At Pearl Lemon, however, it's completely normal.
You know when companies say they stand for something, but they do the opposite? Yeah, that's not Pearl Lemon. Deepak Shukla, the founder, is British-Indian, and more than 93% of employees at Pearl Lemon don't identify as white. In most companies, that is usually the opposite. What people often forget is that diversity and inclusion is not just about policy; it's about company culture as well.
Diverse company culture
When you work at Pearl Lemon, you work with colleagues in India, England, and Uganda while managing clients in Canada, Germany, and the USA. The remote nature of our work enables us to have a truly diverse, international experience.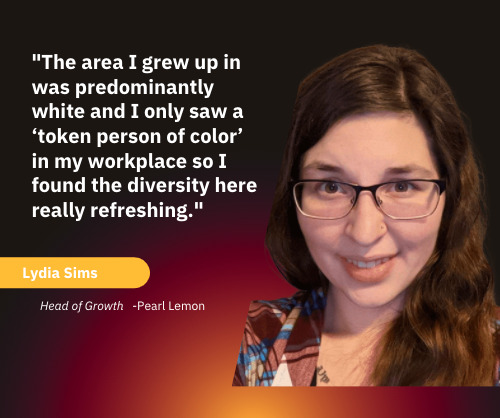 Lydia Sims, the Head of Internal Growth, is from Michigan, Muskegon, in the United States. She's worked at Pearl Lemon for over two years and has enjoyed the international experience that the company provides. She appreciates the unique learning opportunities she has because of all the diverse people she works with.
When asked how she feels about being a minority at Pearl Lemon, Lydia stated, "I never even thought of myself as a 'minority' at Pearl Lemon. It's probably because we're a remote team, so we are Pearl Lemon; we're global, and we don't ever feel like minorities. We just feel like a team."
The remote nature of the company has created a company culture that doesn't highlight people's genders, sexualities, or even racial identities. For this reason, even those from minority groups don't feel marginalised.
Lydia goes on to explain why she chose to work at Pearl Lemon. She states: "One of the biggest reasons why I joined Pearl Lemon was because of the diversity of the team. The area I grew up in was predominantly white, and I only saw a 'token person of colour' in my workplace, so I found the diversity here really refreshing.
"There's a unique challenge of figuring out how to communicate with everybody because the team in India has a different communication style than the American or the UK team. It's a really interesting learning experience. It gives Pearl Lemon a competitive edge because you learn how to communicate with so many people."
Since Lydia grew up in a predominantly white area, she gets to expand her outlook on life and work in a diverse workplace. This adds value to her experience and gives her the intercultural competency tools she can use wherever she goes.
Business Director Vasco is another member of the Pearl Lemon team, and he works in the Sales department. We asked him what it feels like to be a minority in the workplace.
Vasco says: "To be honest, it's quite refreshing. I mean that in a good way. I think it's a step in the right direction and none of it would be possible without our CEO, Deepak Shukla, he is British Indian and he might've felt adversity with being a person of colour.
"I think it's part of why we have such a good culture here. I've felt a great benefit from being exposed to so many cultures and personalities. It's an amazing developmental opportunity – both personally and professionally. I am very thankful that I chose this place to work."
Vasco continues, "What makes Pearl Lemon what it is – is that there's no diversity quota. Our CEO doesn't hire certain types of people just to look good. I don't think it's ever been on his mind; he's just in the relentless pursuit of great talent all over the world (we like to cover every time zone). That just naturally made us so diverse."
Colour-blind recruitment process
Instead of trying to get token minorities to fill a quota, the recruitment process at Pearl Lemon is designed to hire the best talent. Since this digital marketing agency is mostly remote, we get applicants from all over the world, and they all have a chance.
Applicants are given the opportunity to showcase their talents and skills before hiring decisions are made. These choices are made based on the following criteria:
Their ability to complete their tasks in a time-efficient manner
Their good communication skills
Their expertise in the position they're applying for
Their willingness to take on challenges and respond to feedback
This is just the tip of the iceberg of the recruitment process at Pearl Lemon. Once an application is accepted, the applicants go through a trial week where they are given training materials and tasks that are closely related to the position they are applying for.
This trial week is a time for applicants to show us what their quality of work is, and those who are officially hired are the ones who produce excellent work. In this trial week, applicants work with the head of the department they've applied for.
Together with the Head of HR, an applicant's work is analyzed based on merit. We've never sat down to discuss whether their hairstyle was offensive or whether their race could affect their application status. Our focus is on the quality of work, which has surprisingly led us to become a white minority business.
It wasn't even intentional. The recruitment process doesn't favour people of colour over white people. It levels the playing field for anyone to get an opportunity to showcase what they can do. Pearl Lemon is opening offices in India, the Philippines, Uganda, and even London as we speak. We believe that we can find talented professionals anywhere globally, and that is the company culture – diversity is not just a cute slogan published on our website.
None of this would've been possible without good leadership. Deepak Shukla was asked about the recruitment process and how he got the company to where it is now.
Deepak says: "The diversity of the business has been moulded by my background, but it was also a happy accident. I'm an ethnic minority myself, and I've always wanted to maintain a connection with my own community. Because of this, it wasn't a surprise to me that I looked to India as part of the recruitment process. I was looking to build a team, and that's why we have an office in India with nine people based there. Secondary to that, it's been a business decision because I want to find the best talent, and the best talent isn't bound by location."
This mindset is what fueled him to train his HR team to ensure that they don't have a biased view that talented people are bound by geography or ethnicity.
Deepak continues: "So when you think about the global market as a place to hire and find great people, then you've got people from all around the world. This is why we have people based in Africa, Asia, South America, Europe, and North America. They're often very appreciative, hardworking, and can outperform anyone who hasn't struggled to access the same opportunity. Jobs are created equally, but the path to winning jobs is not."
What happens when you provide equal opportunity to applicants and have a welcoming company culture is truly fascinating. The ones who come from unconventional backgrounds are often the ones who are the most incredible employees.
Deepak described it this way: "When you find people that have had to walk a hard path to even get to where you found them, then you're more likely to find incredible people. Look at how this translates in athletics and sports, where often the top performers come from hard, underprivileged communities. The majority of self-made billionaires in the world are from working-class or underprivileged backgrounds. It's actually a predictor for success in many cases."
Instead of limiting people because they belong to a certain race, country, or community, it's important to give them a chance. By levelling the playing field for jobs at Pearl Lemon, the team became diverse and inclusive, or as others like to call it – a white minority business.
By Pearl M. Kasirye, the Head of Public Relations at Pearl Lemon.