Sheree Atcheson has won numerous awards and is recognised as one of the UK's most influential women in tech, is a keynote speaker at conferences, runs training and workshops in DE&I, is a regular contributor to Forbes and is featured regularly by high-profile publications. 
Now. Peakon's Global Director of DE&I is about to publish a book, Demanding More, which focuses on how an exclusive world was built on past inequalities and the need for change.
What prompted you to become involved in DE&I?
About seven or eight years ago, I was working as a software engineer and saw that there was very clearly an issue in the industry. I was born in Sri Lanka and raised in Ireland and, where there is obviously not a lot of people of colour, and there certainly weren't a lot of women in the industry when I joined. I didn't like that there were no groups for women to come together that didn't try to change you, weren't company-centric and were for every level regardless of where you were in your career. 
So, I searched online to see what other people were doing globally and came across an organisation called Women Who Code. At that stage, it had around 5,000 global members and was based in San Francisco. I helped to open branches across the UK, Ireland and Europe. Women Who Code is now the world's largest non-profit organisation dedicated to women in technology, with more than 230,000 members and we run free monthly meetups in all our locations.
How did that translate to the workplace?
I was spending a lot of time with organisations, helping them with their DE&I strategies, bringing them to life by bolstering community pieces, because they're two very separate things. And then I made it my full-time job where I started to lead inclusion across Deloitte, and then at Monzo Bank. Through that process, I was writing for the Huffington Post and then started to write for Forbes. I won many really great awards, and I'm now global director of DE&I at Peakon, an employee engagement platform, used by over 1,000 companies to really understand how their employees are feeling and what they can do about that. 
Why did you write Demanding More, and what does it cover?
Many DE&I related books or training focused so much on moving forward without acknowledging the evil past that has brought us to where we are now. For example, if we start from this is what you do to be anti-racist or an ally, you're not painting the full picture. I dislike that you are assuming that everybody understands some of the horrible things that have happened. They don't and, if you're demanding more, it's really focused on teaching everybody, not just people in a work environment, about how the world and humans have been deliberately and purposefully exclusive to get us into this position now so then we can be purposefully and intentionally inclusive.
Each chapter goes through intersectionality, allyship, privilege awareness, demanding more and planning for more and is also paired with an industry leader interview.
I have interviews with Brian Reaves, chief diversity officer at Dell, with Anne Boden, CEO of Starling Bank, with Kate Robertson, CEO of One Young World and a whole host of other people sharing how they have demanded more and embedded inclusion into their business.
Elevating the conversation from theoretical but giving people meaningful, measurable ways around inclusion and diversity, remembering that they're two separate things. So often people will measure diversity but not inclusion.
Do you include where historically, the biases and injustices have sprung?
Yes, in both my book and the training sessions I run. At my privilege awareness sessions, I spend 10 to 15 minutes at the start going through how the world has been exclusive for different people. In the book, I cover the suffragette movement, for example, how it was racist; how black women were left not just on the sidelines but also pushed far away. I also tell the story of Sojourner Truth and her speech of 'Am I not a woman', which likely never happened in the way it was transcribed by a white woman. 
I also speak of how these things have been embedded into the way we live and work now. For example, only 70 of the 200 plus tube stations in London are accessible. If you're disabled and/or have different access needs, it potentially means you can't travel.
One of the most interesting biases I speak on is against Muslim people after 9/11. In America, the birth rate and weights of those women with Arab sounding names were much lower due to negligence and racism in nurses and doctors. But people don't know that. They assume that everyone is nice; therefore, they would never do something like this. But the fact is the world does these things every day. In America, for example, only one in five companies offer parental leave that is accessible for LGBTQ+ folks. 
There are points in the book where you are very clearly angry?
That's because I think people need to be. People should read this book and open their eyes to the injustices. I think I am angry because they are not okay and because these are things I didn't but should have known. The book is my way of doing to get better.
I talk a lot about my own experiences, too. I was adopted when I was three weeks old from Sri Lanka by a white family. I also talk about white 'saviourism'. Although I am incredibly grateful and lucky that I was adopted, there still must be a conversation around trans-racial adoption and what that means. That's an uncomfortable conversation for people to have.
I hate the phrase 'playing the race card' as if race isn't integrated into everything we do. But the book delves into all these different areas including economic background, disability, neurodiversity and so on. I think some people will read it and feel angry and purposeful, and some people will read it and feel defensive.
Why do you think they will feel defensive, and who will experience that emotion?
We see it quite a lot when we talk about privilege. People view those conversations as others taking away from their successes or undermining the hardship that they have been through.
Privilege is as nuanced as diversity and inclusion; it's not just one or the other. It's all these other things that overlap and integrate into each other. In the book, I go through a privilege exercise and provide a detailed analysis of why I'm asking certain questions.
For example, do you need to use an accessibility feature on your phone? Have you ever had to ask for a seat on the train? Have you ever been mistaken as part of the catering staff at an event? I then explain why we're asking those things to draw people on that journey. I do that training in person, and people describe it as a visceral experience because they've not had to think about it in that nuanced way.
You've written for Forbes about challenging leadership behaviours. What does inclusive leadership look like for you?
It is the willingness to be wrong, being empathetic and very concise and clear. I think people sometimes think of inclusive leadership as being compassionate and empathetic only, but it's not. You still have to be clear and concise, because you are a leader and you're driving people and bringing them with you.
It's essential to have an open communication stream with the people you are working with – it's certainly how I do it – and being willing to hear what you did isn't what I needed right now – that you missed the mark.
That means being able to provide psychological safety for people instead of just hoping that people will send you an email saying that. We know that people won't do that, specifically those from underrepresented groups, because of the fear of rebuttal. 
Is this what you're doing at Peakon?
I just launched our internal DE&I Think Tank to make sure that, alongside the weekly surveys that everybody receives, which ask people how they're feeling. The Think Tank runs bi-monthly meetings with different representation across our five offices who can share what they think about the strategy; how it's going. There's no point in people sharing stuff with me if nothing changes.
Colleagues have to know that I will take away what they share with me, think about it and that there may be times when it doesn't make sense right now, and that's fine. But I have to be clear and concise when I'm communicating that. It is that listening, action and doing in an empathetic and a concise way that I form inclusive leadership.
Does an inclusive leader have to adopt a different style when dealing with different groups?
Different people need different things, and that's just the way it is. What's important in inclusive leadership is understanding the give and take that you need to have with the different people you're interacting with, regardless of level. Thinking about different backgrounds, perceptions of things, and how they may empower each other and detract from each other. Things will clash, and you have to be the person to facilitate that in a respectful way for everybody involved. 
Is there anything that leaders should be mindful of when they are dealing with people of colour?
After the death of George Floyd and the global uprising against anti-racism, a lot of people realised that they didn't know how to deal with the issue. Nor to talk to brown and black people, specifically men, around what's happening.
My suggestion to people that don't know how to have that conversation is, be honest. Be clear that you know people of colour need you to step up for them right now and you are going to work out how. Whether that is through reading, hosting listening sessions or investing in bringing someone who has the expertise to facilitate these conversations with me so you can learn. Then work to understand and analyse everything you hear to provide the solution.
You should not rush in with a decision, which we've seen so many corporations do with it blowing up in their faces. Part of my job as someone who is continuing to work to be an ally to black people is to make sure I'm doing things to level the playing field and actively sponsoring and bringing people into those discussions.  I also educate other people who are either non-black or white, on what that means because so many people just don't know.
How important is it for DE&I professionals to report to the CEO and senior leadership?
There must be accountability, a budget, and an appropriate line of communication. That is different depending on the organisation and the size. In Peakon, I report into our chief people officer and our chief product officer because my role sits across everything. I also check-in with our CEO when I need his support or weight on something. My Exec Sponsor is our Chief Technology Officer.
I would not be as senior as I am in the industry without reporting lines into the C-suite. It's important whenever you see DE&I roles being posted that you analyse how far away they are from senior leadership. If people are not prioritising this across all decision-making remits, then they're not prioritising diversity and inclusion at all. Personally, I don't do roles that do not sit in senior leadership.
At the start of 2020, a lot of D&I professionals were laid off. Then, after George Floyd, there was a lot of rehiring. Why?
Because people have viewed DE&I as expendable and then have realised oh wait, we need to do something. If it's just viewed as an HR 'thing', then you can cut it. Secondly, many people take DE&I roles because they are passionate, or they are from an underrepresented group, having never developed a DE&I strategy before. We have to get to a position where organisations understand that DE&I is integrated across the entire business, it's not something you can pluck and pull out depending on your mood or whether things are going good or not.
What skills should DE&I professionals have?
Data analysis is a huge part of DE&I roles. Not just demographic data, but taking that data across the inclusion spectrum, understanding how it influences processes and so on. Organisational transformation is a massive part of this, if not the most significant factor. DE&I isn't just community building; it is transforming an organisation; it's rooting out the different issues that you have in processes and policies and then changing them or entirely reworking them if need be.
A senior DE&I leader needs to lift and shift how they talk to people and how they respond so they can get the information and the emotions they need from people. And emotional intelligence is an incredibly important part of any leadership role, but especially in DE&I work.
So, being a member of an underrepresented group is not enough?
No, it's not. Because then you create a view of inclusion that is exclusive because it's only about people you identify with. I worked with Women Who Code globally for four years as a volunteer before making this my full-time job. I wanted to make sure I had all the expertise, the knowledge and the experience that I could genuinely say this is what I know I need to do and this is how I need to do it using a tried and tested method. 
What is a brown or black person's perspective of what inclusion in the workplace looks like?
Exclusion can feel like lots of different things for different people and again, I make it very clear that I don't know what it's like to be a black woman because I'm not a black woman. I can only speak from my personal experience about what exclusion means for me. But what I hear from other people is that exclusion is being facetiously listened to and not being actively listened to.
Organisations and people need to understand that exclusion isn't just about saying 'that person is not coming in because of their race'. It is about the way they are treated once they are allowed in the room. A lot of people don't realise or want to that it's not just the first point of exclusion, the slamming the door in someone's face. It's all the other insidious, under-the-skin ways of doing things that we shouldn't do.
First, understand the data; otherwise, you will assume that things are inclusive without having anything to back it up. In the same way, you would roll out any solution to decide if it was successful, you do user research, analysis and data aggregation to check if it's worked.
What should organisations do to eliminate the feeling of exclusion?
You need to do a similar analysis for inclusivity. For example, when you roll out training, does your inclusiveness score change? Do you see people responding differently in your quarterly, monthly, annual surveys? Are you able to interrogate that data across protected characteristics? And then when you have that data, that's when I suggest that you do training. And it has to be mandatory.
Remember that the world view of how people interact with each other changes. The training you roll out this year and in one to three years, will need to be continually reworked.
Looking ahead to the rest of 2021, what should DE&I professionals be mindful of? 
If you don't know something, do the research, listen and find out. And then be ready to communicate that in a clear, concise way. People need clarity and a leading voice on this. And if you're in a senior leadership position, that's you.
DE&I fits across everything, engineering, product design, marketing and so on, and the role must be given that level of accountability and decision-making ability to feed into those things. If it sits in HR only, you must make it incredibly clear that quite a lot of your work will be reworking or changing the stuff that HR has done in the past. You have to question are you willing to do that, or are you going to be quiet? And if you're going to be quiet, then this is not the role for you.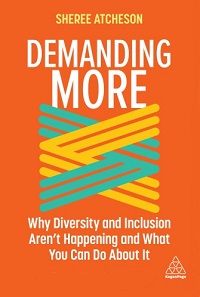 Sheree Atcheson (@nirushika) is Global Director of DE&I at employee engagement platform Peakon and an Advisory Board Member for Women Who Code.
DiversityQ's readers can purchase her new book Demanding More from Kogan using the discount code DEMANDINGMORE, for 20% off. It is also available from Amazon and Good Reads.