Barjis Chohan was born into a traditional Pakistani family and has pioneered her way into the fashion industry, one of the least diverse industries, without compromising her culture and Muslim faith.
Speaking ahead of the Women in IT Virtual Summit, Europe 2020, she explains what drove her to succeed and how she is helping to inspire people from marginalised communities to become future leaders.
What do you do when a white, middle-class PR man tells you that high-end fashion is elitist, with very little diversity, and that there are very few designers from a Pakistani background who wear a hijab?
If you're Barjis Chohan, you don't let it stop you. "It was difficult to digest, but I respected his honesty because he was looking at it from a different perspective. He wasn't being racist but showing me the reality and that it is a tough industry to break into," she recalls. "So, it put a fire in my belly to say I want to do it and I can do it."
She could, and she did. Chohan is CEO of an award-winning fashion and lifestyle company and Director of the Barjis Initiative. This involves working with schools and industry to inspire youngsters to be future leaders and support their artistic aspirations.
The initiative was born out of her own experience of studying at the London College of Fashion and then Central St Martins, which had instilled the impression that fashion and the arts were mainly for the privileged class. That, plus the hard work involved in forging a successful career in an industry she was told was not for people like her.
Empowering children
Chohan says: "There are so many who are quite aspirational, who have the creativity but they don't have the networks, the money or go to the best schools, but they still have these dreams. Starting this initiative allows me to go back to the grassroots level and into schools to empower young children.
"We hold competitions and workshops, and the winners attend my fashion shoots or get front row seats at fashion shows so that they can see what someone from my background can achieve. I think it can be a life-changing experience for a child."
Like many people from her background, Chohan's family expected her to study a traditional degree, such as medicine. Her father argued against the fashion world as being too glamorous. His view changed when she was awarded Entrepreneur of the Year in London and the judge, who was also Asian, told him he should be proud of his daughter.
"Since then he's just been a rock, he's supported me every single day," she enthuses. "He is my mentor, and I go to him with whatever issues I have, and he helps to steer me in the right direction."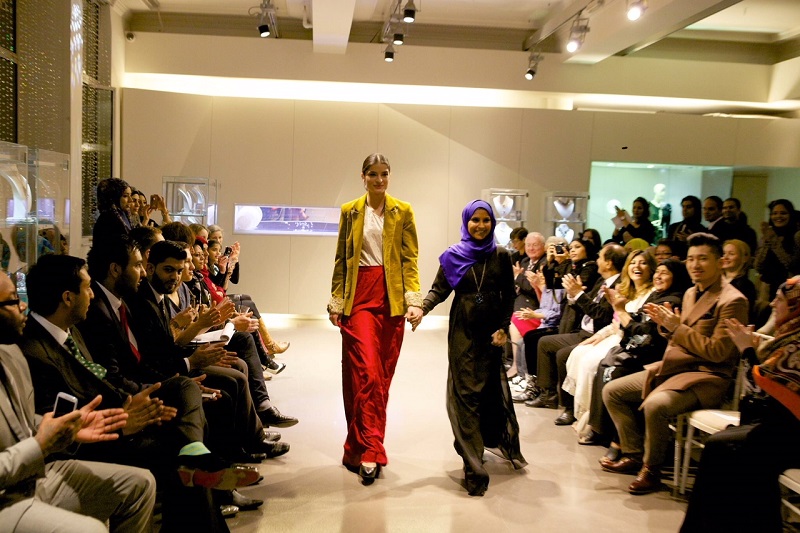 The right mindset
However, her father's strengths are on the business side, and Chohan regrets the lack of an outside mentor. But that wasn't for want of trying.
"I felt isolated," she reveals. "Whoever I approached didn't have the time. In terms of finding people who are from my background and who can mentor me, that was a struggle. I didn't have someone to pick up the phone to and say could you help me, should I be doing this or that? I've made a lot of mistakes in my journey. I failed so many times, but that was because I didn't have that person who can give me that insight.
"It was quite demoralising, but I think you have to have the correct mindset when you're doing something. You're going to be faced with obstacles, but you have to navigate them and get to the other."
While there has been some improvement since Chohan began her journey – the London College of Fashion has started a programme to encourage people from ethnic minorities to go into teaching – there is still a long way to go.
"There are these nuances and things that people say or don't say that sometimes are quite conflicting," she explains. "We still collectively have to make a lot of effort, and we have to speak up about it and not feel afraid to address our concerns.
"I think that's the biggest problem coming from our background; we feel that if we say this on LinkedIn, then maybe we won't get this project, or we won't get this speaking opportunity or that door will close. But we need to have an open discussion about our issues so that we can collectively resolve them."
BAMME leadership programme
That's why Chohan has decided to launch a BAMME leadership programme, as part of the Barjis Initiative to support black, Asian, marginalised (which represents white people who come from less privileged backgrounds) and minority ethnic communities. It will provide coaching and fill in the gaps to enable people to aspire to senior leadership positions. She is aiming to work with not only the fashion industry but also other sectors.
Interestingly, the initiative's school workshops met with some resistance from Asian and black parents – the very communities she was trying to help. "That was because they felt it was distracting them from their academic education," Chohan explains. "A lot of children, when they have to choose their GCSE options, they don't choose art or drama. There are a lot of children who don't have the role models at home, who don't have that access point. It's all about building self-esteem.
"There are a lot of issues within our community and even with white working-class boys and white working-class marginalised communities. They don't have that role model and a lot of their parents have debt, little financial literacy or they don't have the networks. And I feel starting at an early stage will inspire them.
"I've been doing this for six years, and have children who are deciding on their A levels or university telling me they are considering something in the arts because of me! That makes it worth it."
Like many women with a demanding career, Chohan has to balance her work and home life. She describes each day as a battle – sometimes children win, sometimes business wins. It's all about finding the best way of managing.
"I really believe in rituals when it comes to achieving what you want to achieve," she says. "My ritual is writing a gratitude journal; I put lipstick on, to make me relax sometimes and put me into work mode because we're working from home. I do my five-time prayers which breaks the day into five little compartments. It's my way of focusing for five minutes on God and myself, in the form of meditation."
Men and women should work together
Chohan will be taking part in the virtual Women in IT Europe Summit and hopes that a key take away will be that women need to work with men, not without them.
She argues: "This thing about just trying to empower women does not work. We should ask others, especially the opposite gender, to listen and support us if we want to gain real traction. We can only change the world when we work together.
"Secondly, it's not about competition. It's about uplifting each other and working with our strengths instead of our weaknesses. I think sometimes there is an element of rivalry among women which I don't like. The only way of moving forward is to uplift each other and give recommendations and referrals; if you can't do that project, share it with someone else so they can benefit from it. Be kinder and nicer to each other. To me, that's what empowerment is all about.
"If you really want to understand the world, you need both men and women around the table at the executive and board levels to transform lives and organisations. But we don't want to come across as groupism – gender, BAME. There's no point in being in our little bubbles. We need men, women, people of colour, different age groups, the disabled, whoever they are, to work together to make a better society." 
Hear more from Barjis Chohan at the Women in IT Virtual Summit, Europe 2020 on September 15. Register here.