This year's Women in IT Ireland 2019 'Woman of the Year' award went to Barbara McCarthy, Chief Technology Officer (CTO), Ding, who the judges praised as a true trailblazer. 
During her career of more than 20 years, Barbara has often been the only woman in the teams she has worked in, and just earlier this year was named CTO of Ding – becoming one of only a handful of women at technology companies to achieve the role.
Standing ovation
The judges recognised McCarthy for being a pioneer in software development who has also spearheaded initiatives for gender parity and more diversity across the tech industry. She has been a mentor to young women seeking a career in technology and endeavours to do her bit for the pipeline of STEM talent in Ireland.
The announcement of her win received huge cheers and a standing ovation at the Women in IT Ireland gala dinner held at Mansion House, Dublin, attended by 500 industry leaders.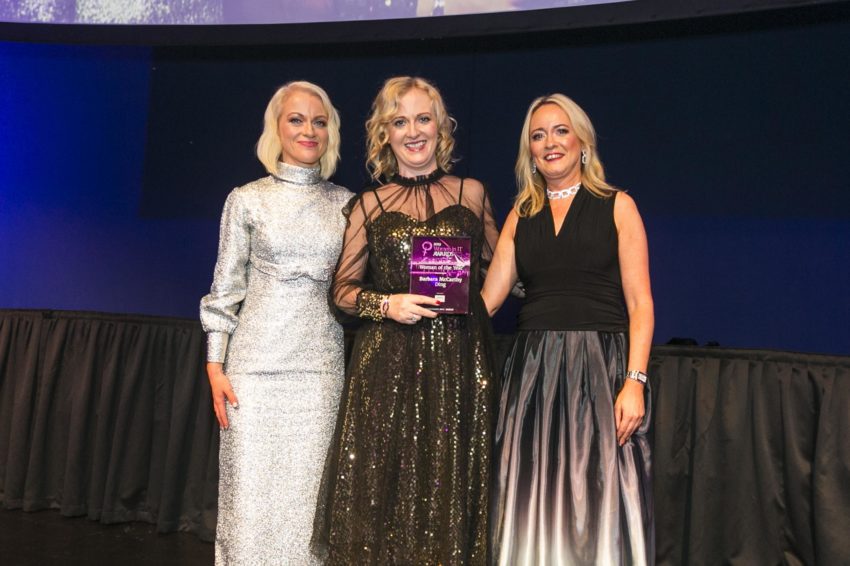 Speaking to DiversityQ, McCarthy said: "I am truly honoured to receive such a prestigious award."
She added: "It means so much to me especially because I have sometimes found it hard to be the only female on a team and at times I questioned my own thinking because I may have thought differently to everyone else.
"In recent years, diversity of thought has been acknowledged as a good/positive thing within teams. We are all too aware of how important diversity is in the tech industry. We see too many companies struggle to make change in relation to this because it is not easy.
"My advice to any company is to 'just start'. It will never be something that is 'done' but more of a way of being. You will need to change your recruitment funnels, engage outside of your normal channels and most importantly start the conversation within the company. You will not always get it right but start that all important conversation. Ask your employees what it means to them and what they believe diversity to be and help them understand the power and value in it."
Worthy winners
In total 16 winners and businesses were chosen from over 500 nominations for the Women in IT Ireland 2019 Awards.
CIO of the Year went to Michelle Kearns from Caredoc, for her conviction that technology needs to support healthcare services in the future. And for having the passion and determination to convince any sceptic. The judges said: "Her ability to bring internal and external stakeholders along with new projects and innovative thinking is part of her success."
Hilary Delany, Bank of England, walked away with Data Leader of the Year, while Ruth Kennedy, Revenue, won Transformation Leader of the Year.
Meanwhile, the Employer of the Year went to professional services firm Accenture and Innovator of the Year went to healthcare company McKesson.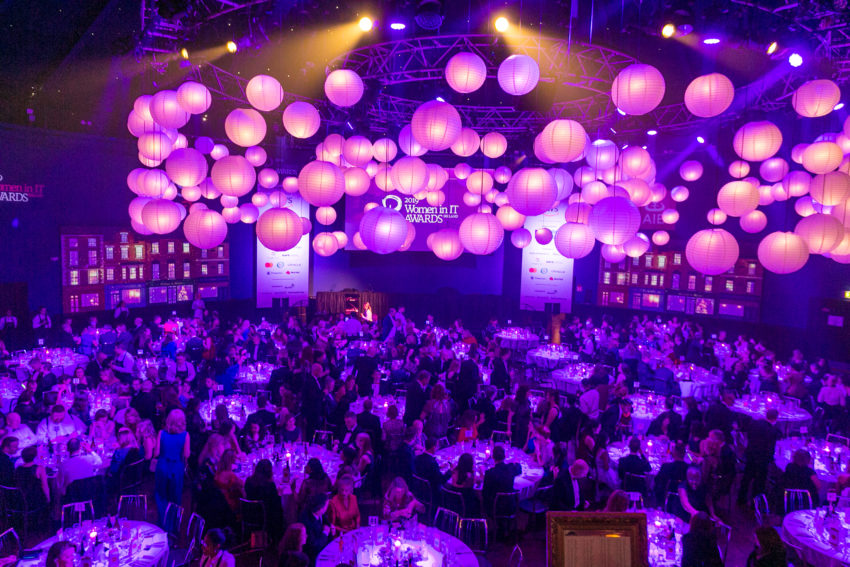 Women in IT
Women in IT Ireland 2019 Awards, part of the world's largest tech diversity event, is organised by DiversityQ and Information Age (a Bonhill Group publication) in partnership with Amazon Web Services (AWS).
Now in their second year, the awards serve to showcase the achievements and innovation of women in technology and identify new role models in a sector where female representation stands at just under 19%.
Opening the ceremony, Nuala Murphy, the Head of Global Customer Support at headline sponsors AWS, as well as congratulating all the nominees, spoke passionately about her journey into tech and the people who helped influence her successful career.
Her talk highlighted the importance of having both male and female allies for young women pursuing a STEM career. Murphy said: "Without all these leaders and influencers in my life, I could not lead today a team of 1,400 amazingly talented people around the world supporting AWS customers in the most complex technology environments that we've ever experienced.
"It is to these influencers that I owe where I am today. The shy girl that needed support around her to build resilience, learn and grow with experience, but ultimately to believe in herself. Without these influencers, that girl cannot be the woman she is today — the woman who has found her voice and is truly able to inspire others with that voice.
"I ask each of you tonight to remember that is our purpose. Be that influencer and supporter of young females in the workplace, to encourage them to go further and reach for their dreams."
Female advocates
Following Murphy was Dr Michelle Cullen, Managing Director and Head of Inclusion and Diversity, Accenture Ireland and, co-founder of Women on Walls. Cullen said: "…In every area of my own life, technology has made my life better. From continuous education to managing my career. From finding my way around a new city to making my home comfortable and secure.
"But those of us in privileged positions, women and men working in IT and concerned with equality, have an opportunity to go further. To be brave and think and design for those not in the room.
"It's timely to hold events like the Women in IT Ireland 2019 Awards. Congratulations to all the nominees and all the advocates for diversity in technology, who are here supporting the awards tonight.
"More than ever, we need diversity in IT, designing and delivering technology for all."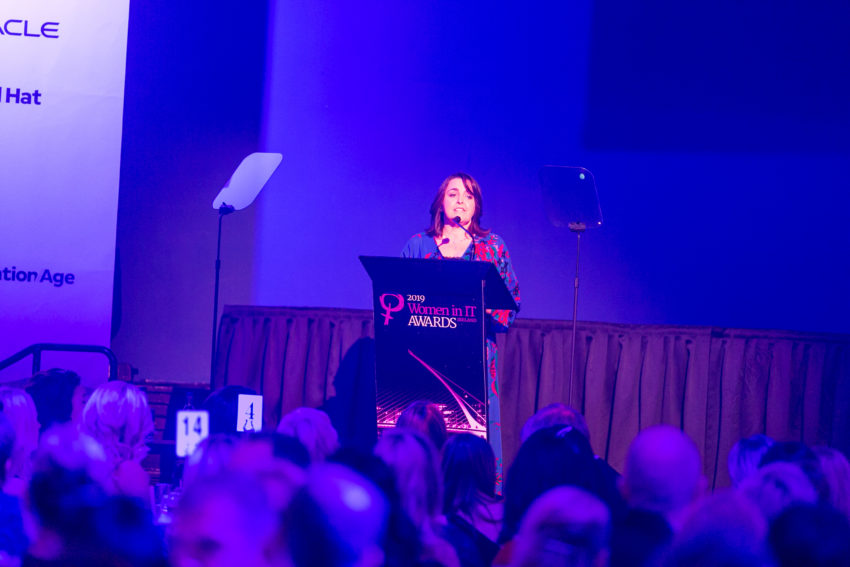 Role models
The awards were hosted by science communicator and broadcaster Kathriona Devereux, who said: "We have all seen the under-representation of women in tech. Only 19% of the tech sector are female. Tonight is the time to recognise, highlight and celebrate the women in technology that are paving the way."
Addressing the women in the audience, she added: "But with success comes responsibility. And whether you like it or not, you are the role models for the next generation of women, for whom the visibility of female role models is so important.
"We need to establish a new norm of women working in tech. And it's only by sharing your journeys and achievements that young women will begin to see gender parity and celebrate women at the forefront of changing innovation."
Here are the winners of the Women in IT Ireland 2019 Awards in full:
Advocate of the Year
Coral Movasseli – Girls in Tech Dublin
Young Leader of the Year
Caoimhe Kennedy – Citi
Employer of the Year
Future CIO of the Year
Ciara Tobin – Mercer
E-Skills Initiative of the Year
Digital Leader of the Year
Maria O'Loughlin – HSE Health Service Executive
Business Role Model of the Year
Sarah Cunningham – Mastercard
Business Leader of the Year
Brid Quigley – Irish Life
Innovator of the Year
Rising Star of the Year
Áine Usher – Ericsson
Security Champion of the Year
Edel Briody – Vodafone Ireland
Data Leader of the Year
Hilary Delany – Bank of Ireland
Transformation Leader of the Year
Ruth Kennedy – Revenue
CIO of the Year
Michelle Kearns – Caredoc
Entrepreneur of the Year
Fidelma McGuirk – Payslip
Woman of the Year
Barbara McCarthy – Ding
The 2019 judges
Judges this year included Sheree Atcheson Board-Appointed Global Ambassador, Women Who Code; Mary Carty Executive Director, Blackstone LaunchPad, Co-founder Outbox Incubator; Gillian Harford Former Head of Diversity & Inclusion, AIB; Sandra Healy Head of Diversity & Inclusion, Dublin City University; Barry Lowry Head of Diversity & Inclusion, Dublin City University; Deepa Mann-Kler, CEO, Neon.
The 2019 sponsors
Joining headline sponsor, Amazon Web Services, at the Women in IT Awards Ireland 2019 are Salesforce, AIB, Bank of Ireland, Mastercard, DocuSign, Google Cloud, Oracle, Red Hat, New Relic, Hays Recruitment and Pramerica.