Listed companies where at least one-third of the bosses are women have a profit margin more than 10 times greater than those without, according to new research.
Of the FTSE 350 largest companies listed, just 13 are led by women. And, if the companies without women on their executive committees had delivered the same net profit margin as those where women accounted for 33%, the UK economy could have gained an additional £47 billion in pre-tax profit.
The Women Count 2020 report, funded by The Pipeline, shows that 15% of companies in the FTSE 350 have no female executives at all.
The Pipeline's Lorna Fitzsimons said having more women in the decision-making room means businesses are better able to understand their customers.
The Women Count 2020 report "shows the stark difference in net profit margins of companies that have diverse gender leaderships compared to those who do not," she said.
"During the most unprecedented economic challenge of our lifetime, the economy can't afford for businesses to continually miss the opportunity to be more productive. Businesses and governments need to actively address this as an economic imperative if we want to come out of the inevitable recession any time soon. We will then emerge from this crisis together, stronger, and more united than ever in a post-COVID-19 world."
The Pipeline says FTSE 350 companies with no women on their executive committees have a net profit of 1.5%, whereas those with more than one in three women at that level reach 15.2% net profit margin.
The report also points out that in the largest 100 London-listed companies, the total number of female chief executives is the same as the number of bosses named Peter – six. The findings are in line with those of The DiversityQ FTSE 100 Board Diversity Report 2020.
When it comes to chief financial officers in those firms, fewer than two out of 10 are women, while men make up 96% of investment managers.
The sectors with the lowest number of women in executive roles are construction and retail.
Former Prime Minister Theresa May, who contributed to the report, said there could be no good explanation for the massive underrepresentation of women at the top of British business.
"Every single male CEO who looks around his boardroom table to see nine out of 10 male faces staring back at him needs to ask himself what he is doing to make his business one which his daughter or granddaughter can get on in," she said.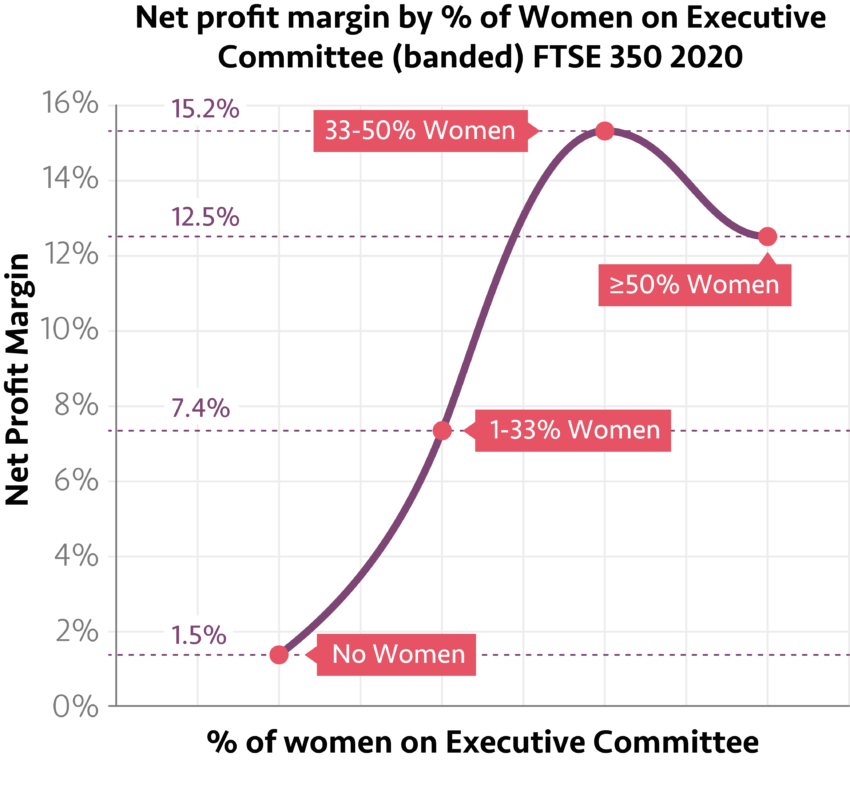 Women Count 2020 reinforces that teams made up of different ethnicities, gender or other underrepresented groups, able to voice their viewpoints, positively enhance the company, said Nicole Sahin, Founder and CEO of Globalization Partners.
"It has been proven time and again that companies with employees who are diverse in both inherent and acquired traits (gained from life and work experiences) are more likely to achieve market growth.
"It's a little harder for executives to find people outside of their network, but doing the hard work upfront has a multiplicative impact on the bottom line of the business."
Making it fast and easy for companies to expand globally, those who work with Globalization Partners have realised the benefits of diverse teams.
"By hiring local people on the ground in various countries, our clients can sell more easily into overseas markets or truly understand their third-party vendors better. At first, they're overwhelmed by the idea of hiring in a new country, but quickly, they realise that taking the leap of hiring local talent in-market is by far the best way to do business across borders."
Women Count 2020 is a reminder for organisations to question whether they are doing their part in removing gender discrimination from the workplace.
"After all, gender equality isn't just an issue for females in a business, it affects the organisation as a whole," said Agata Nowakowska, Area Vice President, Skillsoft.
"Women bring a different dynamic, different thinking and different strategies – so why not have equal representation of genders when it comes to the boardroom?"
Despite the number of women in leadership positions on the increase, many women across organisations – from the directors to roles in IT support – are still in the minority.
"We need to teach about gender equality within schools. Both boys and girls need to learn to regard themselves as equal, and they are both capable of taking up any role, whether that's in STEM or leadership. Educating children at a young age is the only way to remove unconscious bias that affects us later on in our professional working life," said Nowakowska.