UK charities are ahead of firms in other sectors in diversity, inclusion, and sustainability, holding tangible measures to prove it.
Charities including the British Red Cross, NSPCC, British Heart Foundation, and National Trust topped the leaderboard in diversity metrics in the Kin + Carta Business Resilience Index 2021.
Produced by digital transformation brand Kin + Carta, the Index assessed FTSE 100 and B Corp businesses across 10 industries, indexing them across four areas: Agility, Responsibility, Humanity, and Maturity.
The Index analysis also covered business models, working practises, long-term purpose, and balancing people, purpose, and profit.
The performance of charities
UK charities were found to rank highly on diversity and inclusion markers, including 'diverse leadership', 'the gender pay gap', 'B Corp certification', and 'philanthropy efforts'.
The British Red Cross took top position on the Index with a score of 63.8% thanks to its impressive diversity and inclusion performance in 'Responsibility', scoring 22.9% out of 25%.
Here, the charity was singled out for "leading on climate change transparency and performance" and the energy efficiency of its digital estate.
UK children's charity, the NSPCC, also ranked highly and made the top five in diversity and inclusion-focused leadership and policy metrics.
Other firms from different sectors
Regarding other industries represented in the Index, the Oil, Gas, Power and Utility sector made a surprising entry to the top three for 'Responsibility.' Water services company, Severn Trent, took third place.
BP also scored highly and was placed 11th out of 100 brands. The firm's good performance is due to its recent shift from oil to 'integrated energy' to help reach net-zero emissions.
While financial services performed well across the 'Agility', 'Maturity' and 'Humanity' sections, it did not fare as well overall in 'Responsibility.' However, insurance company Aviva did, and was placed third overall due to the energy efficiency of its digital estate.
A snapshot of company performance on the Index can be found below:
Overall Leaderboard Top 5 (Average 41.81%)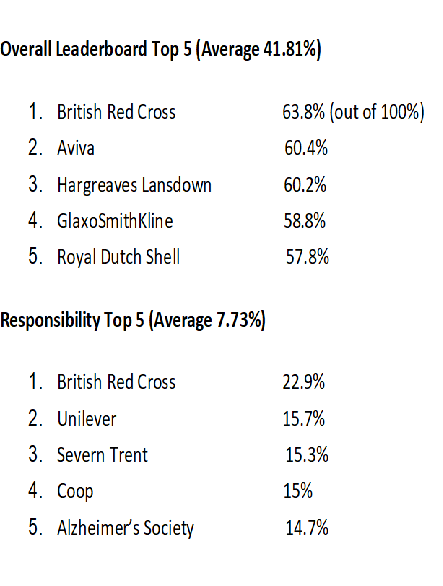 Claire Robinson, Customer Experience Director, Kin + Carta Europe, commented on the findings: "Charities have been able to avoid the worst impacts of 'The Great Resignation'. The message is clear for the private sector – invest in diverse, flexible, and inclusive working environments to attract and retain talent.
"Agility was the key focus in last year's Business Resilience Index, which came as no surprise as businesses could not afford to react slowly to the fast-changing landscape. However, the dial has now shifted towards responsibility as COP26, and the most recent IPCC report have pushed sustainability up the consumer agenda.

"The public mood is shifting, and traditional shareholder capitalism will increasingly take a back seat to stakeholder capitalism as the planetary and societal impacts of business operations take centre stage. Responsibility was still the lowest-scoring factor for brands across the Index as a whole, but there has never been a more pressing time to invest in the people who power your business – your customers and employees."
To read the Kin + Carta Business Resilience Index 2021, click here.