Raising capital to grow a business is hard work. I know that because I've raised more than £100 million in my career.
There's a sad truth to the fundraising game: there are, in fact, two games. One is for white men. Members of the old boys' club. The other is for everyone else, and it's not played on a level playing field.
I'm a white man and have more than likely benefitted from the gross injustice of the fundraising industry. I should add that my experience has always been on the side of entrepreneurs. I'm a Chief Financial Officer turned entrepreneur, not a banker or venture capitalist.
The statistics are stark, as highlighted by the UK VC & Female Founders report from the British Business Bank in 2019. This looked at gender disparity in venture capital deals from 2017 and found:
All-female teams submitted 5% of pitchdecks and secured less than 1% of funding
Mixed-gender teams submitted 20% of pitchdecks and received 10% of funding
All-male teams submitted 75% of pitchdecks and received more than 89% of funding
That was several years ago. "Surely the situation has improved," you must be thinking. After all, the UK Treasury has recently published its latest update on the Investing in Women Code which first came out in 2019. Sadly not. As Catherine Lewis La Torre, CEO of the British Business Bank, states in the update: "This report highlights positive signs of change, but there is still much progress to be made."
Let's start by taking a look at the findings from two reports published in the last month.
The Cornerstone Report: Access to Venture Capital looked at founder journeys and the barriers to inclusive investment. It's one of the few research reports that looks at investment in founders by race. The report states that of those founders who successfully raised capital in 2019, 7.3% identified as Asian and 2.9% as Black. It also states that 53% of them were in London.
The Greater London Authority estimates that 24% of London's population identifies as Asian and 16% Black. Taking London as the largest subset, less than 1 in 3 Asian and less than 1 in 5 Black founders successfully raised capital. Sadly, I can't say that I was surprised by these findings. In conversations with entrepreneurs, the discrepancy of access to capital by race is just as lopsided as it is by gender.
Equity Investment Market Update Q1 2021, published by Beauhurst, analysed every equity fundraising in Q1 2021 based on the date published on Companies House. The results were impressive, with a record 647 deals announced and a staggering £5.2 billion in funding raised. That's up by 84% over the same quarter of 2020, which was only partially impacted by the COVID-19 pandemic.
For the first time, more than £1 billion was raised by UK companies with at least one female founder – nearly half of that was due to mega deals announced by Starling Bank (£272 million) and Patsnap (£215 million). That's a positive development to be celebrated.
This led to a sharp uptick in funding for mixed-gender teams, and there was also a sharp uptick in funding raised by all-male teams. However, the graph makes abundantly clear that the funding for all-female teams continues to be very limited. At a time of record growth, to see the line for funding to all-female teams continuing to flatline is depressing.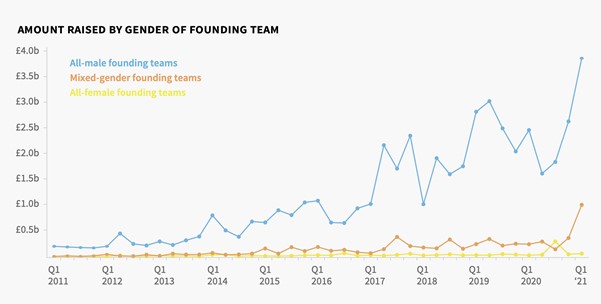 Source: Beauhurst
Going back in time again, one of the most important reports published in this area was The Rose Review of Female Entrepreneurship, authored by Alison Rose, CEO of NatWest Bank. This report came out in 2019, and it concluded that closing the gender funding gap could generate up to £250 billion for the UK economy. That's an additional 10% to the UK's pre-pandemic GDP.
Extrapolate that to the USA and the EU, where the gender funding gap is as big as it is in the UK, and we are talking four trillion dollars! $4,000,000,000,000 of additional economic value. If that were a country's GDP, it would be the 4th largest, bigger than Germany.
The findings from the British Business Bank, The Cornerstone Report, Beauhurst and the Rose Review are consistent with what I've heard from more than 500 entrepreneurs from 25 countries as part of my work on Funding Focus, an event I started to highlight inequalities in access to capital.
In discussions with investors, I often hear claims there isn't enough deal flow from female or underrepresented founders. The data from the reports above show that this is simply not the case. The investment industry is putting out new codes and making statements about diversity and inclusion being key elements of their strategy. From the data here and the conversations I have had with entrepreneurs around the world, it's clear to me that many in the investment community are merely paying lip service to this issue. It's not enough, and it has to change. Four trillion dollars are being left on the table – and that's just in the USA and Europe.
There are many initiatives taking place in cities and countries around the world. We need to bring them together and create a powerful voice that is heard – by the investment industry, by entrepreneurs, by governments and NGOs around the world.
Only by coming together to collaborate can we use our collective power to drive meaningful change and encourage investors to put their money to work. The untapped economic opportunity from channelling more funding to diverse founders is vast. It's time to level the capital raising playing field.
David B Horne is an award-winning author, speaker and founder of Funding Focus, a social enterprise that runs conferences and training programmes that provide a platform to connect diverse voices from across the entrepreneurial and investment communities. Funding Focus aims to level the capital raising playing field for female and underrepresented entrepreneurs around the world.