In this guest post, Jake Third, Managing Director at Hallam and Director of Outreach at Nottingham Samaritans, shares the real impact of seasonal affective disorder and how to manage it.
With the second lockdown now in full swing, some of it is a little different this time. Notably, it gets darker earlier, and the temperature starts to drop. With the commute also banished for those working from home, some people go days without getting proper sunlight.
Every year seasonal affective disorder (SAD) affects millions of people. But this year, with concern for loved ones, personal health and job insecurity thrown into the mix, it's no wonder so many people are suffering. In fact, half of UK workers are currently reporting symptoms of depression such as sadness, irritability, and emotional exhaustion.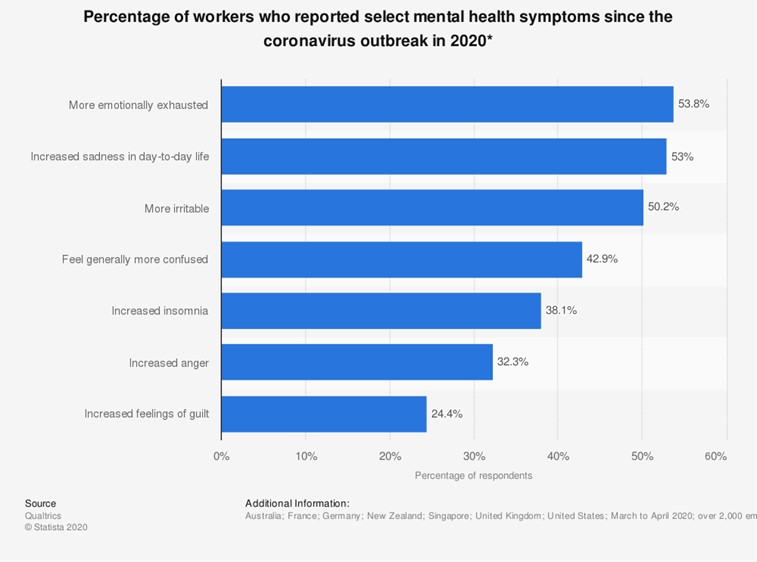 Seasonal affective disorder is something which employers need to address head-on, without hesitation. From my experience, there are many small actions that managers can take to make a real difference, and help support their team's mental health:
1.Encourage your team to work flexible hours suited to them
In the UK, we get around seven hours of sunlight per day during the winter. Likewise, the average working day is eight hours, meaning many people can't go for a daylight walk pre or post the workday.
Let your teamwork flexibly when working from home, whether that means starting 30 minutes later or earlier in the day so they can get a walk in the daylight. Let them work the hours that they want, as long as they can meet deadlines and attend meetings. If you trust your team to work when they want to, they are more likely to be more motivated to deliver quality work.
We also actively encourage our team to take extended lunch breaks, giving them time to walk outside during sunlight hours. Your team is more likely to deliver favourable outcomes if they are healthy, happy, and positive.
2. Train employees as Mental Health First Aiders
Mental Health First Aiders (MHFA) are employees who are trained to provide mental health support. The scheme gives them the tools to be a confidential place for their colleagues to go to to be heard, empathised with and signposted to the most appropriate source of support.

We have seen around 10% of our workforce access our MHFAs, and it gets great reviews. Having MHFAs not only benefits the 10% that use them. It shows you are taking mental health seriously, for those who may need to take advantage of the offering in the future.
Showing that you support your team's mental health is one step towards creating a culture where your team feels emotionally safe and that you're willing to listen.
3. Consider providing access to professional mental health support
You should consider providing your team with free-of-charge access to professional therapists, as one of the escalation points for MHFA's to refer an employee to when they feel it's appropriate.
The names of individuals accessing the service should be confidential, except to the MHFA who referred them. In our experience, this therapy service has been accessed by 5% of the team – but it offers a far deeper form of support and intervention than the MHFAs.
Within the last six months, this has cost us less than £500 and has been a vital lifeline for our team.
4. Ask your team to share their daily routines
We all know that exercise, diet, and lifestyle have a significant impact on wellbeing. However, when an employer or workplace suggests certain tips to help your mental health, it runs the risk of coming across as patronising.
The research is clear that giving people advice when they are struggling is not that helpful—instead, the individual giving the advice benefits, rather than those that receive.
One way to combat this is by running a session where the team share their own routines and practices that have helped them with their peers. By sharing advice in a group, it helps contributors confirm which of their activities is most helpful.
5. Tackle toxic traits
Research shows that a toxic work environment adversely affects mental health. The authors of a recent study published in the Journal of Occupational Health Psychology found a correlation between what they call "incivility" and insomnia, alongside other symptoms of clinical depression.
This is one of the times when leaders can get it wrong. Some take on compliments but struggle with being confronted over any toxic behaviour.  If you want to look after your team's wellbeing, start from the top. Toxic behaviours can have no role in your organisation.  Practical steps for preventing a toxic workplace culture can be found here.
Summary
To support your team's mental health, the goal is not to "make people feel better".

Instead, it is following a number of actions to create a culture that is conducive to individual flourishing. Let your team know that you are there to speak, and that it is "ok not to be ok".
As we move into a decade that will be coloured by the after-effects of the pandemic, our ability to navigate our teams through the quick-sand will be a defining factor in modern leadership.