A combination of personal experience and the goal of building a diverse and representative team is behind an initiative aimed at tapping into a dormant talent pool.
In March this year, dxw digital launched a Returners' Programme, which offers the chance for experienced individuals, of any gender, to get back to the workplace after an extended career break and re-launch their career. It is running initially as a pilot with one or two people over three to six months, depending on the role and circumstances.
Managing Director David Mann first came across the idea of Returners' Programmes a couple of years ago. At the time, his wife was finding returning to work difficult after a longer than expected maternity leave of almost two years. He also became aware of the Government Equalities Office's work on Returners' Programmes and felt that was something dxw should be doing.
The company has been in business for eleven years and has experienced rapid growth. It specialises in providing digital services to the public sector. This includes, for example, services for helping people pay their rent to housing associations.
"The sort of things we build are used by lots of people and, in order to build good services, you need to understand the people who are using them," says David. "You can only really do that if your team is representative and looks a bit like the people who you're building services for, therefore building a diverse and inclusive team is something we take seriously. "
"So, that's the genesis of our Returners' Programme – a combination of some personal reasons for wanting to do something and our company objective to be more diverse."
>See also: How do we get more women returning to work to retrain into tech?
Barriers to returning to work
As part of the planning process, David spoke to a number of people and learned that there were many barriers to getting back into work, which meant a lot of talent was being wasted.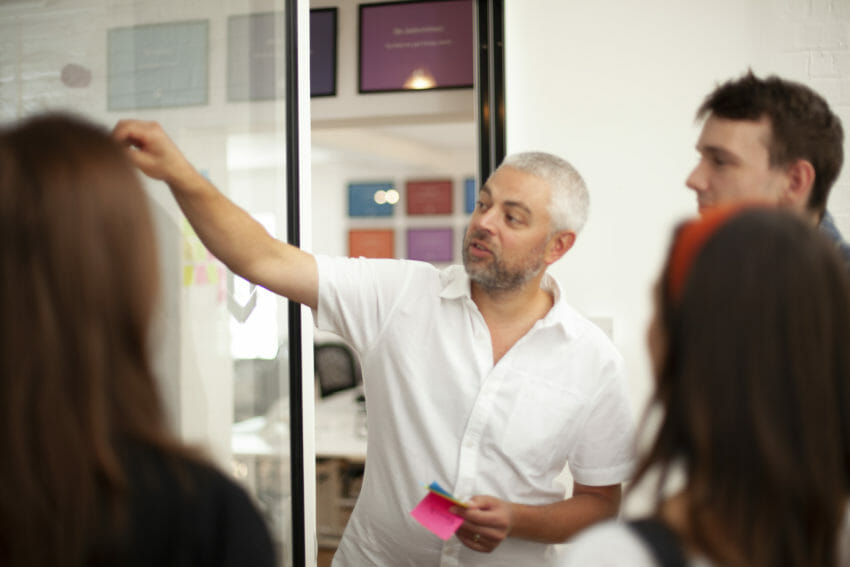 "I think it's really important that businesses tap into that because, apart from anything else – for commercial reasons – there are brilliant people out there and there are often reasons why people end up in the situation where they are not working," he argues. "The longer you're in that situation, often the harder it is to get out off."
While women taking maternity leave, particularly after having a second child, make up a large proportion of this cohort, there are also other contributors to career breaks, such as acting as a career. The main obstacles are finding work with businesses that can offer part-time or flexible arrangements. Also, people's confidence levels drop, the longer they are out of work. This is particularly the case in the technology and research sector where things change quickly.
As an SME of 60 people, which also operates as an agency, the main challenge in setting up the Returners' Programme was identifying roles where it was possible to provide structured support and also flexible working.
As most of the estimated 40 existing returners' programmes were run in larger organisations, dxw didn't really have a model to follow.
Tailor-made returner's programme
"For example, our HR department is two people, whereas the bigger companies have a whole team of people," David explains. "We had to design something that would work here. At the same time, being in a small business, we are a bit more able to take risks and do things we believe in. Also, the people who work here are all very supportive."
The aim is for the programme to cover all roles across the business. However, some roles might be difficult to support, such as where dxw staff are required to work in a client's office.
People can find out about the programme via blogs, the jobs page and the staff playbook on the company's website, as well as through Twitter and Linkedin.
It's early days and David is keen to see the level of interest and how support can be tailored. "If someone is successful and they join, we'll assign them a mentor who is working in the same field," he says. "They would answer any of the day-to-day questions and help out. Then there are others in the team who would be able to provide more thorough support.
Practical experience building blocks
"Success for us would obviously be to find some good people and for them to be in permanent roles here, fully integrated with the business and back in their careers. Commercially, it's great because it means we've got happy and productive people in the team."
The pilot will also provide the practical experience to help develop and improve the programme further.
David would like to see businesses doing more to help people and says there are sound commercial reasons for doing so.
He adds: "There are some really great people out there and, for one reason or another, they may have dropped out of the workforce temporarily and they need a little bit of help getting back. Often, we're talking about people who have been in quite senior roles.
"Confidence affects us all and I think larger companies should be seeing this in the same way that we do. As an opportunity, not a box-ticking exercise."

>See also: Deloitte seeks untapped tech talent amongst return to work employees