The UK female employment rate between April to June 2019, was 72.1%, the highest on record since comparable records began in 1971, according to figures revealed by the Office for National Statistics (ONS), today.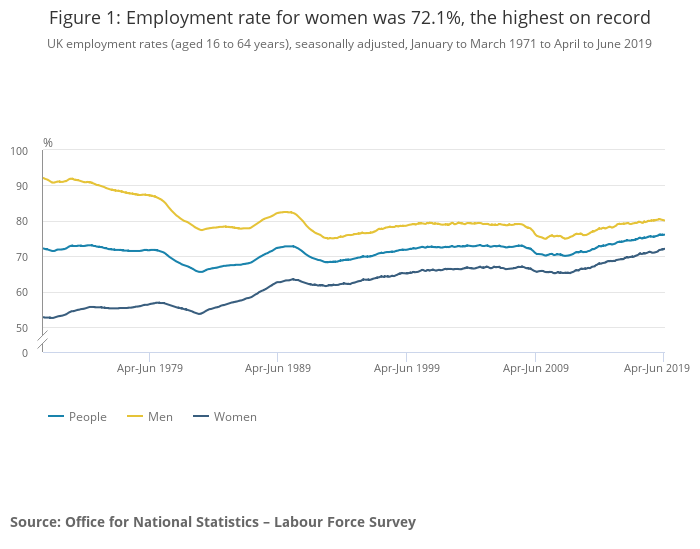 For men, the rate was 80.1%; unchanged from a year earlier but down 0.2 percentage points on the quarter, the third consecutive quarterly decrease. The ONS included the figure within the data in this month's labour market overview.
Employment measures the number of people aged 16 years and over in paid work. The employment rate is the proportion of people aged from 16 to 64 years who are in paid work.
Estimated employment rates for men and women aged between 16 and 64 years have been generally increasing since early 2012.
>See also: APPG report calls for the empowerment of female entrepreneurs
Female employment will continue to rise
The recent increase in female employment rates is partly due to changes to the State Pension age for women, resulting in fewer women retiring between the ages of 60 and 65, says the ONS.
Karen Thomson, Diversity and Inclusion Lead at Fujitsu UK&I: "Today is a milestone for women and shows the progress being made to ensure more women are entering into the workplace, especially as these record-high rates are continuing to grow. Whilst great strides have been made in driving gender equality within organisations, there's still an ocean of gender inequality left for us to conquer.
"There are many steps that organisations can implement to facilitate a diverse and inclusive work environment. Organisations should be striving towards eradicating their gender pay gap, implementing inclusive recruitment processes and supporting women to apply for senior positions.
"However, one major factor preventing gender equality is the pipeline problem. Driving the recruitment of women at all levels in organisations, from graduate and apprentice levels to mid-management levels will be vital if organisations are to address the low number of women in senior-management level positions.
"We also should be looking further than just at recruitment. Women need to be retained and nurtured within an organisation. The introduction of a women's business network, for instance, can be vital in ensuring women are equipped with the support, advice and networking opportunities they need to grow and succeed in the workplace.
"The future does look bright for women in the UK, and if organisations are to deliver real change, they must commit to a big vision that will fight unacceptable inequality."
>See also: Government reveals Investing in Women Code – a new initiative to propel female-led business