Joanne Rewcastle won Diversity Initiative of the Year at this year's Women in IT London 2020 Awards. Here she explains how taking a proactive approach to D&I has paid dividends at DWP Digital in the Department of Work & Pensions.
If you want to improve D&I where you work, take a leaf out of Joanne Rewcastle's book.
She advocates to simply, "take action, do something, no matter how small and don't be held back." It's certainly worked at DWP Digital in the Department of Work and Pensions (DWP), where she is Head of Internal Digital & Cross-Government Engagement.
Rewcastle has spearheaded a range of initiatives including skills showcases, an emerging wellbeing network and the Digital Voices programme. Now in its third year, the programme is helping women in DWP Digital to build confidence and engagement skills. It won the Civil Service Championing Gender Equality Award in 2019 and Diversity Initiative of the Year in the London Women in IT Awards 2020.
All this activity has had a positive effect; DWP Digital is 38% women, compared with 33% for digital professionals in the Government as a whole.
Rewcastle is responsible for a creative production team – events, video, blogging and social media – an internal communications team and internal and cross-government events.
From laboratory to office
She arrived by a somewhat unconventional route. Spurred on by a love of science and nature, she studied biology at Salford University, then took a PhD in plant pathology/phytopathology at Edinburgh University. But, as much as she enjoyed the lab experience, it was communicating the results that she was most interested in.
So, she took off the white coat and worked for an academic publishing company as production editor for scientific journals. At the time the company was trying to digitise its products, which gave Rewcastle a good foundation for her future career. After a stint in the financial sector, where she managed projects and programmes and developed her internal communications skills, she joined DWP in Leeds 10 years ago.
Initially, she managed the department's website and had a variety of internal and external communication roles before moving to her current position.
"It's almost brought me back full circle, into tech and science where I started," Rewcastle muses. "My love of communications has kept going, but the tech side of digital engagement is really interesting."
She's found that the planning, decision making and communicating the results that are essential to scientific research are transferable to an office environment.
"Planning is something I take with me wherever I go," Rewcastle explains. "A lot of people talk a good game. Getting that into delivery, especially whether that's producing an academic journal on schedule or an engagement campaign, people find it challenging to keep all the balls in the air and moving in the same direction.
"Also, the decision making: you've got to make decisions based on data – it's great that data is everywhere now. The other priority is communications. And I do see some people not doing that as simply as they could to get the right outcome."
It was while at university that Rewcastle learned the value of role models. Although she wasn't the only woman studying biology, there was "banter about what women could and couldn't do" an indication of the prevailing culture at the time. However, several mature women were studying to switch careers, which she found inspiring.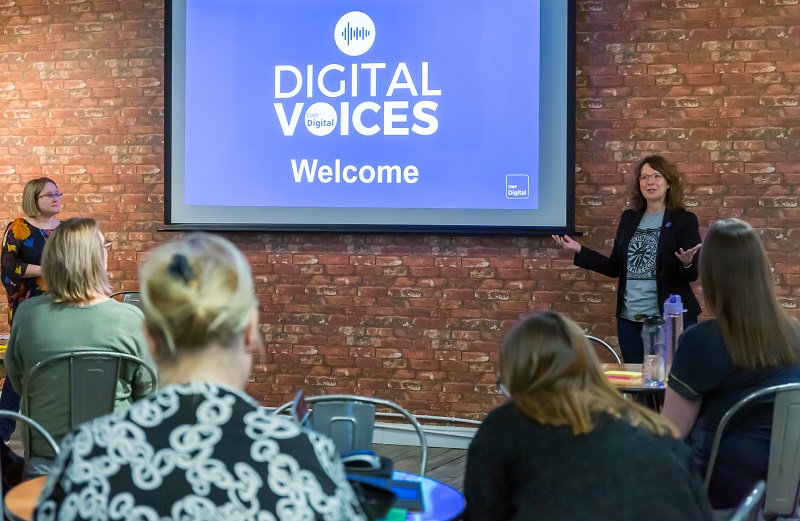 Making women more visible
Rewcastle admits that she's been lucky in not facing barriers to her career but, about four or five years ago, when she could see that there was "a lot of talk and not a lot of action" around D&I, she decided to do something about it.
"I thought, we've got all the skills so why not put a simple hypothesis out there which is that we haven't got enough women who are visible in our organisation," she recalls. "And the ones that we have don't have all the skills that can help them to do that confidently. So, the first thing I did was to get my team ready. We did an internal event to showcase their event management and content creation skills. I invited other people who were in engagement, comms roles to come and learn and share their skills. That was stage one – getting the team ready to go with the plan of using the skills we've got to help women be more confident."
With no budget, Rewcastle partnered with the Women in Digital network to get it off the ground – that was a great decision.
When Digital Voices was launched three years ago, most of the inspirational speakers came from outside – no one from inside volunteered. But, once the first cohort started to talk about their experiences, it became clear that the programme was giving women more confidence and they have become more visible as role models.
A proud moment for Rewcastle is the way the programme transforms women who aren't confident talking about their work. "When our Digital Voices get up on stage at our annual Women in Digital event, it's just amazing," she says. "It has implications beyond their jobs; that's what I really like about it. People have applied for other jobs, which is brilliant, and some have sorted out something in their personal lives and dealt with anxiety issues, which is fantastic.
"We had one woman on Digital Voices last year who wouldn't say 'boo' to a goose when she started. When she stood up to speak about her experience on celebration day (the last day of the programme), she power walked up to the front, and everybody said, 'Woah! Who's that?' She looked like a different person. We always made it not about progression because some people don't want that, some just want confidence in what they're doing now."
Support network
The most challenging aspect has, Rewcastle admits, been the energy required to run the programme, which includes learning and skill-sharing sessions — fitting it in with the day job.
"But I've got a fantastic team, and everybody does their bit," she says. "Also, there's a great network of support. Every Digital Voice is matched with a 'friend' from DWP Digital, someone they can turn to for advice, help to raise their profile, and is a cheerleader for them. So, a lot of the friends of Digital Voices are really good friends to me as well."
Men have also proven to be good allies, including Simon McKinnon, the chief digital information officer, who is the department's gender champion too.
On role models, she believes it's important to have them representing all different levels – when senior women speak, people listen, and it can show the way for others.
"Sue Griffin, who heads our Women in Digital network, always says it's her job to help people up," Rewcastle reveals. "But, when some of our Digital Voices, who wouldn't have said 'boo' to a goose, can get up and be a compere at a huge conference, that inspires others too."
She is now acting as an ally to DWP Digital's wellbeing advocates and hoping to restart an emerging BAME network, supporting them with communications.
"A lot of the barriers are how do we do this and who do we need to seek approval from," Rewcastle says. "I tell them just to do it, and we will help communicate. "Don't be held back" is what I tell anyone who is working in D&I.
"Give it a go. Take action; do something. We are not done."
Join us at the Women in IT Summit June 30 – July 2 to hear more from Joanne.
---