Lady Mariéme Jamme had a challenging childhood growing up in Senegal but founded a technology company and is on a mission to get girls coding through hard work and determination. Now she is planning to tell her story and emphasise why it's important for people from an African heritage to know where they come from and who they are.
Many young black people are unaware of their heritage and where they come from, and, as a result, it's affecting their mental health and ability to reach their full potential. This reality is one Lady Mariéme Jamme can attest to.
Her journey from a neglected childhood in Senegal to founding her own tech company is an inspirational one. She is CEO of SpotOne Global Solutions – recently rebranded to Accurate Solutions – and launched the iamtheCODE initiative, aiming to get one million girls coding by 2030.
iamtheCODE is the first Africa-led global movement to mobilise governments, businesses and investors to support girls and young women in science, technology, engineering, maths, arts and design(STEMED). There are over 26,000 girls on the programme from 69 countries.
Jamme had to teach herself seven programming languages from her local library and her kitchen. Her hard work and determination paid off – she is an award-winning technologist and a system change pioneer.
But despite her success, Jamme has found it difficult to 'claim her true self' and be comfortable telling her story over the years. "I didn't have the vocabulary," she says. "But, in the last two years, I started to understand what really happened in my childhood, my ancestry, and I'm beginning to put pieces together."
Protecting the African diaspora
Jamme is now writing a book about growing up in post-colonial Senegal, especially the difficulties women face and hopes it will educate and encourage young females to aspire to be the best they can be.
Jamme wants the youth of Africa to thrive, despite their background, privileges or lack of, as her view is that "in my youth, African elites let their children down in a way that was not their fault. My mum and dad were part of this. My mother came from a noble family; they had all the glory in the 1960s and 1970s, but mum didn't take care of us in the way she should. I don't think she knew better."
"So, I'm writing about what we can do to protect boys and girls, especially the African diaspora, many of whom don't know their identity. It's affecting our mental health, and so, for a century, we've been into a high-level mental health status in Africa that no one talks about."
Lady Mariéme Jamme cites the example of writer and actress Michaela Cole, who recently admitted that she never understood her mother or knew what she had suffered.
Many women from the West African countries were fighting and working hard but suffering in silence. It's trying to stop the suffering – she was assaulted as a child – by safeguarding women and trying to make the legal system fairer that fuels her determination to make things better.
Jamme explains how, in Senegal, a caste system has fractured society and led to inconsistencies. Women are not emancipated and not adequately protected from rape and molestation. While NGOs, such as UNICEF and Plan International, are doing much to promote girls' education, not enough is done to help governments protect children.
Dare to be visible
So, what is she doing to drive change? "I can't sit down in my comfortable home in England dictating laws from here to Africa," she reveals. "But we have people on the ground through who I can talk to the government, the private sector and help to change policies. Equally, I can at least open their minds and tell them why my mother made certain decisions due to necessary safeguards not being in place at the time.  
"Hopefully, by adding context to my experience through this new book, they can start to make a difference.
"It hasn't been easy for me to share my story as I didn't feel I had an identity. But I now say to anybody doubting themselves and looking to make it there's hope. First, we need to make sure we understand what is scalable, impactful, and can change the lives of women and girl – such as teaching them how to build a solution and be visible.
"I remember Christine Lagarde saying you need to dare to be visible. But it's not easy if you don't know who you are. But don't ever worry if you don't know who you are, it takes time to find yourself. And Kamala Harris' appointment as the first female, and person of colour to be appointed as US Vice President, has shown that anything is possible."
­***
iamtheCODE and Liverpool City Council have joined forces to launch the Read, Write & Code campaign to provide computers to young people at home to learn how to Code with their parents.
This is another step forward in iamtheCODE's ambition this year to reach one hundred thousand young boys and girls globally while participating in the growth of the Liverpool City Council Technology & Employment and Skills Strategy.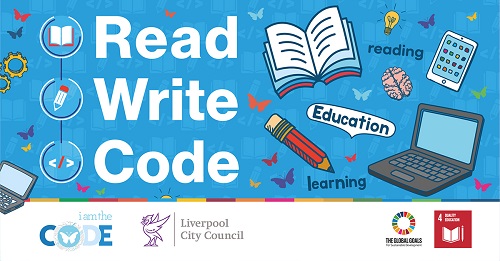 Lady Mariéme Jamme took part in the 'Reinventing Business Through Inclusion' panel discussion at The Good Business Festival, which is available to watch at https://thegoodbusinessfestival.com/on-demand/ .