A job candidate enters a room and has a limited period of time to solve ten challenges.
This scenario is one of several virtual reality (VR) environments that are designed to assess how people perform and whether they can demonstrate the specific behaviours required for the roles for which they are applying, one that Accenture is adapting. Developed by Capp, it's the world's first VR behavioural assessment and development platform.
Accenture is using the technology as part of a unique application and assessment process for recruiting graduates. Not only does it give a better indication of potential but, importantly, it's helping to improve diversity and inclusion.
Adrian Love, Recruitment Director for the UK and Ireland, led the development of this new technology-based approach. Accenture recruits between 600 and 700 graduates a year in the region from 40,000 applicants. While the traditional, manual process was attracting good, and increasingly diverse, candidates, it was cumbersome and inflexible.
"I wanted the team to be able to spend more time on the moments that matter for candidates," Adrian explains. "Also, we wanted to have something that reflected our business as a digital and technology organisation."
The new recruitment process was introduced in September 2018 and has three main components.
Digital fingerprint
First, a mobile optimiser has replaced the traditional CV and application form. It builds a digital fingerprint of each candidate, focusing on their strengths, behaviours and values. The software incorporates diversity, which gives a better picture of the candidate pool, whilst the focus on strengths, rather than past experience or 'pedigree', helps candidates from diverse backgrounds demonstrate their potential.
"The second element is an immersive online experience that we've developed with Capp, so it becomes very two-way," says Adrian.
"So, candidates learn not only about Accenture but actually about management consulting. Social mobility is really important for us and we recognise that not everybody will understand who we are or what management consulting is. However, talent resides everywhere and we want people from a whole range of backgrounds to see their future at Accenture."
More than 10,000 candidates will complete this section of the recruitment process, all of whom will receive personalised feedback, whether they are successful or not.
Virtual assessment
Successful candidates then move to the third stage, the assessment centre. This includes a series of micro-assessments that focus on potential, rather than experience. VR is a key part of it because it's representative of the type of technology that Accenture uses with clients.
The assessment includes five different environments. In addition to the room with ten challenges, there's an Egyptian tomb containing hieroglyphs. They represent codes that candidates must crack to test their logic. Both environments are 'off the shelf' but Capp has also worked with Accenture to create bespoke content.
In one of these, candidates will see screens displaying information about an on-going project. Their task is to assess what needs to be done. They can even pick up an iPad to explore the contents, and there's a conference phone.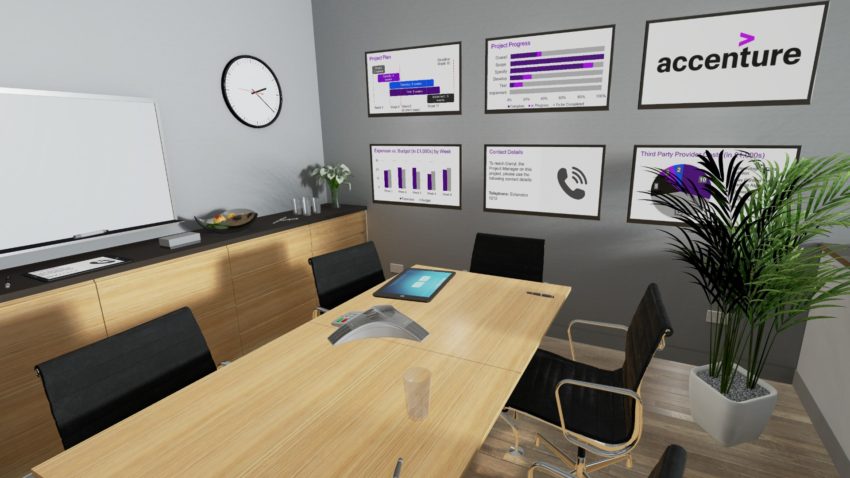 Dustin Peteves from Capp explains: "We can have situations where candidates are working through information, and they receive a call giving them new information. They can then make an outgoing call, which activates a voicemail, to log their thoughts.
"If you try to deliver that type of assessment in the real world, it can be very difficult because it's quite complicated. When it's complicated, it can lead to inconsistent delivery for different candidates. Then it becomes unfair."
"What the VR software is doing, in this case, is providing consistency and ease of delivery. Every single candidate gets exactly the same experience, and that ensures that everybody has the same chance to show the behaviours that we're looking for."
The technology caters for people with disabilities too. Where mobility is an issue, the VR allows users to teleport around the room. Those who are hard of hearing can read instructions on a screen. Unfortunately, it's not accessible for blind people, but there is an alternative, paper-based exercise, that gives the same score.
Adrian emphasises that VR is only part of the overall assessment, adding, "It is one component part of a holistic picture that we build of the individual through a range of human interactions."."
>See also: Sopra Steria Recruitment joins directory committed to disabled workers
Improving diversity and inclusion
This approach has been well received by candidates, so much so that the assessment process has become part of the attraction. Even the unsuccessful candidates have said how much they enjoyed it and what they learned.
"Using the technology is giving us more visibility on who is moving through the process," Adrian reveals. "It means we can react in the moment and make sure that we are meeting all our needs, particularly getting the right kind of potential, quality and diversity into the organisation.
"We've got a record number of female candidates who are going to be joining the business next year off the back of this. We're also attracting more candidates with a STEM or digital background."
Helen Lorigan, Head of Candidate Experience and Assessment, says that, now that the first assessment centre has been completed, the team is going through all 40,000 applications to identify any trends and themes.
"What we do know, because we have lots of bio-data on those candidates, is that, from a social mobility perspective, there's no difference in terms of performance between the most privileged and the least privileged," she adds. "All these new tools we've put in are identifying strengths and potential. We are levelling the playing field."
The process is helping Accenture to stand out from the crowd in the competition for digital skills.
"What we need as a business is diversity in every sense," says Adrian. "Particularly backgrounds and thinking because we know that it means we deliver better for our clients and for ourselves commercially."
Following the success of this new approach, Accenture is now considering applying it to other areas of recruitment and will adapt it to suit their requirements.