Tracy Quah, Vice President of Marketing, Asia Pacific and Japan, Informatica, discusses why she is paying it forward to support women in the tech industry.
The World Economic Forum estimates that the technology industry will create at least 12 million new jobs by 2025.
According to Tracy Quah, this is all the more reason to encourage women to "grab hold and jump on the bandwagon." She believes the lack of female representation in tech is due to the misplaced perception that these are 'men's jobs.' In fact, a study reported that women who were less technically inclined than their male counterparts experienced bias in the workplace – leading many talented women to seek simpler roles.
Another reason was the degree gap. Research showed that this year only 1.7% of women globally were studying STEM degree subjects. "A lack of confidence in technical ability has also caused women not to consider a tech job," states Quah.
"But it's important to highlight that the industry doesn't just comprise of tech gurus and domain experts; we also need experts in other business functions."
On a more positive note, she adds: "I would say that, with the progress that society has made over time, we will see a higher uptake of younger women joining the tech industry."
Quah is Vice President of Marketing in Asia Pacific and Japan for Informatica, an enterprise cloud data management leader, and has a tech industry career spanning more than 20 years. Building on her own experience, she is paying it forward for women by spearheading the company's global efforts to promote gender equality in the workplace and encourage female leadership in technology.
Women in data leadership
Not having had many mentors to guide her and "provide a safe space to ask questions" motivated her to set up the Women in Data Leadership (WIDL) programme, targeting female CIOs and CDOs from Fortune 500 and Global 2000 accounts. Launched in 2019, the WIDL community has reached various female professionals across the region, including China, Singapore, India, Australia and Korea.
"Once women get talking, they just keep pouring and sharing their stories and the challenges they've had to overcome as working mothers," Quah reveals. "I had the privilege of meeting the CIO from one of the largest automotive organisations in China and who has thousands of people in her teams. She actually stayed up until midnight to write an article on how women could share tips with the audience on that day [of the WIDL programme]."
Last autumn she hosted students from the 'Sisters of Code' non-profit educational programme, the first female coding club from Cambodia, to educate their students on the limitless opportunities in tech, and share her career journey to inspire them.
Most recently, Quah hosted a forum to discuss the value of a multi-generational workforce, bringing together representatives from various generations.
The forum emphasised the importance of organisations embracing diversity at their core, and supporting talents of all ages and backgrounds. She believes an inclusive culture will ensure that everyone feels valued and supported as they embark on their career journey. They just need to be courageous and harness their experience and wealth of knowledge.
Values-driven culture
When asked why it was still proving difficult for women to thrive in the tech space, Quah highlighted the Deloitte 2021 Women at Work study, which involved a poll of 500 women from global tech, media and telecommunications companies. She says: "They found that women had experienced dramatic drops in motivation and productivity at work. Job satisfaction and work-life balance had gone downhill, and the feelings of loyalty to customers had also dwindled." As a mother herself, she understands the struggle to find a balance between work and home responsibilities.
Quah believes flexible working hours alone will not resolve this. Organisations should consider "work from anywhere" models to expand the available pool of exceptional, diverse talent globally, and also address the challenges that working women face at the workplace.
Diversity at the core of Informatica
Informatica was setting a good example through its values-driven culture, 'DATA'. "D stands for 'do good' where we treat each with respect, fairness, and dignity," Quah reveals. "A is for 'as one team' to constantly connect, communicate and collaborate and T is 'think customer first'. The last A is my favourite, 'aspire and innovate' continuously through curiosity and learning."
The company strives to include female candidates for every vacancy and has partnered with She Loves Data to bring together C-suites worldwide to look into gender diversity. It is also supporting the education of children from low-income families in Las Vegas and trying to encourage the younger generation to study STEM subjects.
"Companies today must take the initiative to ensure that all employees feel valued and supported," she argues. "There are no boundaries today as technology allows one to cover a certain region or countries from any part of the world. Companies need to have this global mindset to attract and retain talent. They must also provide upscaling opportunities, and learning should be a lifelong journey – developing both the hard and soft skills."
She adds that diversity and inclusion training and creating conducive and flexible environments were important, along with a structured programme for increasing women's representation, led from the top down.
Gender dividend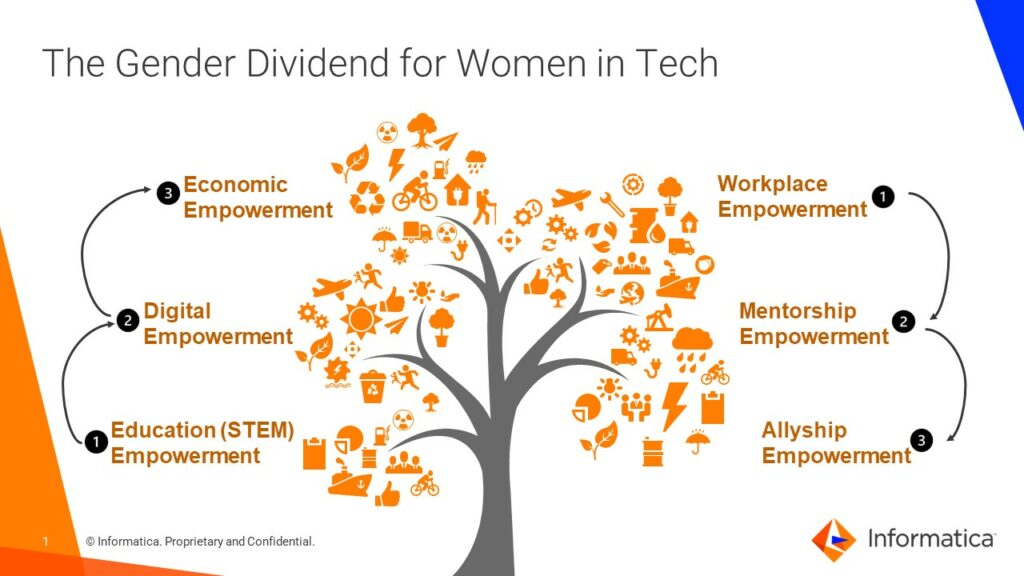 Another initiative she's developed is the Gender Dividend for Women in Tech tree, which addresses how inequalities such as poverty, racism, sexism, and lack of opportunities intersect. On the left side, the lower branches start with education and STEM empowerment, leading to digital and economic empowerment. On the other side are allyship, mentorship and workplace empowerment.
Says Quah: "If students from third world countries were to go back and impart their knowledge to the younger generation, that is how a tier four city will eventually become a tier two or even tier one city. This could be further transferred when that person joins a workforce with a gender diversity mentality that empowers people to come together as one team for the good of the company and the country."
Finally, what advice would she give to women considering a tech career? "Get yourself trained, go on online courses and upgrade both the hard and soft skills," she says.
"The tech industry looks out for people with multiple skills and domain knowledge. Be open to new opportunities, explore the different facades that the data and tech industries offer, jump on in and learn."
Tracy Quah is a supporter of the Women in IT Asia Awards. Nominate your candidate for the 2023 awards now by visiting here. The closing date for entries is February 10, 2023!
To hear more from Tracy watch the full interview below.