Born in Iraq and raised in the Netherlands, Salesforce Financial Services Account Executive Husain al Waily never saw leaving home to work for a big tech company in his future. But during his senior year at Windesheim University, while working on a Bachelor's in business administration, he had the opportunity to participate in the 2016 European Sales Competition. With candidates from 22 universities competing, Husain finished third — and Salesforce recruited him for the Futureforce programme, which cultivates the next generation of Salesforce talent.
"When I heard the stories about what it's like to join Futureforce and work for Salesforce, I took the opportunity and, after two and a half years, I think it's one of the best moves that I've made in my life so far."
First contact
Husain began life at Salesforce as a business development associate (BDA) in Dublin and moved to the role of sales development representative (SDR) after three months. The SDR acts as a "baton passer" to deliver inbound leads to the company sales professional best equipped for the given challenge.
During his time as an SDR, Husain's team started to shift from a generic to an industry focus. The rapid evolution of the financial services market and the emergence of financial technology (FinTech) piqued his interest. Working with an account executive (AE), Husain began to explore FinTechs within the Dutch market.
The effort bore fruit. When he was ready to step in the business development representative (BDR) role, the results of his foray into this vertical helped him land the role of BDR in the Enterprise Business Unit (EBU). There, he focused on financial services, where Husain often engaged with businesses that knew little about the company.
"BDRs are often the first point of contact potential customers have with Salesforce," shares Husain. "And because our platform can eliminate many of the business challenges they face, we can inspire and educate them. Our platform is a differentiator."
Husain believes that in those initial conversations genuine curiosity is the most valuable sales tool. Ask the right questions. Listen with compassion to what customers say are their most pressing needs. And probe to understand the challenges they face in the marketplace.
"That's the Salesforce methodology. Listen, learn, and share our knowledge of relevant trends in the customer's industry. Then suggest how our platform aligns to their needs. It's about solving problems, not pushing products."
Working as a BDR in the enterprise business segment, Husain saw first hand how financial services institutions (FSIs) were using technology to transform their companies. He wanted the opportunity to manage the entire sales cycle with financial customers. So, after only three years in the company, he was very happy to move into his next role — AE in the Netherlands financial services team.
In his first year as an AE, Husain was named Young Professional of the Year at Salesforce's Netherlands 2020 Regional Kick Off! His story continues below.
The platform matters
In Husain's experience, customers appreciate the capabilities of the Salesforce platform once they understand how it can solve their most critical challenges. For example, he works extensively with companies in the financial services market, many which are still trying to cope with the new world of open banking brought on by the revised Payment Services Directive, or PSD2, which became law in 2018.
PSD2 has forced European FSIs to embrace new ways of integrating and governing data and opened payment markets to new entrants, creating greater competition and more choices for consumers.
"We see a lot of FSIs dealing with the challenges of open banking. At Salesforce, we have a vision on that and if I share that vision with our customers, they begin to see how our platform can help."
Shaping the future of an industry
Husain sees a trend across industries where recent entrants in a market are disrupting the way business has traditionally been done. For legacy FSIs, that means becoming an open platform that can support its customers at every stage of their lives. And this requires sharing data with a large ecosystem of service providers who simultaneously may be partners and competitors. "Owning" the customer relationship becomes more complex, nuanced, and potentially much more profitable. But that requires understanding the competitive threats that can emerge from unexpected sectors. Just consider as one example the proliferation of mobile payment options that don't come from banks.
"Banks can't just hold someone's money and expect to grow. Consumers are demanding much more, and they have plenty of options. NimbleFinTechs are rewriting the rules. The Salesforce platform can help the traditional players transform their systems to compete and innovate."
Beyond helping to reshape an industry through the Salesforce platform, Husain also sees the opportunity to shorten the artificial intelligence (AI) learning curve for customers.
"Many companies are trying to implement things like chat bots integrated with machine learning. So, they're very keen to learn that the Salesforce platform already includes innovations based on AI. It's not an unattainable dream. It's here now."
Keep your options open
Advancing your career through moving to another city or even another country is a step that may not appeal to everyone. But Husain recommends staying open to the possibility. Much to his initial surprise, it worked for him and was a tremendous opportunity to learn.
Husain credits the open environment fostered by Salesforce for helping him advance quickly and take advantage of opportunities for growth. He offers three recommendations to help build your career at every step.
Gain as much knowledge as you can about our products and organization so you can become a trusted advisor to your customers.
Connect with the people around you. They will help you understand the skills needed to take each step in your personal and professional development.
Don't be shy about reaching out to people from other departments, including managers. They can act as mentors as you prepare to take on a new role.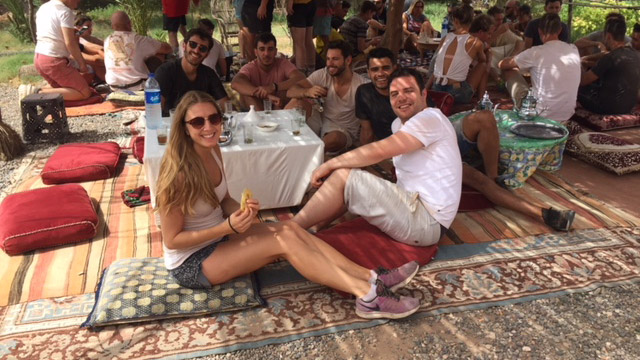 To learn how you could start your career with Salesforce and to see what roles the company has open, visit our careers site.